Do You Rinse Your Hair After A Swim?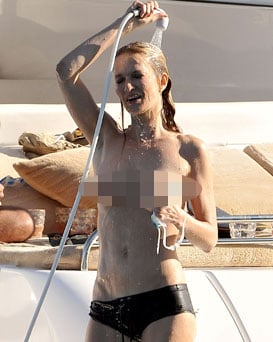 Kate Moss, Jamie Hince and model gal pal Karen Mulder spent some time this week on a buddy's yacht in the South of France partying and taking in the surf and sand. After a dip in the Med, Karen cared for her long, blonde hair by rinsing it off with fresh water so that the salt from the sea didn't dry it out, whilst Kate just left her hair alone.
After a dunk, I typically apply some kind of SPF hair product to protect my locks and then comb it through so that it dries into sexy beach waves. Do you rinse off your hair after a swim in an ocean or pool?