Do You Wear Bronzer All Year Round?, Eva Longoria Makeup
Do You Wear Bronzer All Year Round?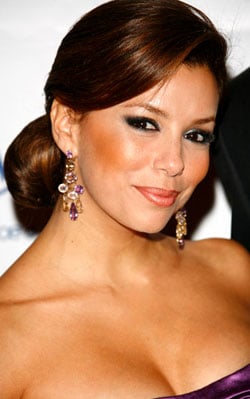 I'm all for bronzer. I love the way it gives me a healthy glow and I even love the look of a good, brown self tanning gel or cream. That being said, I definitely prefer a natural looking tan to an orangey one any day, and in this photo of Eva Longoria Parker at the Par Coeur Gala for Association Make A Wish with Tony Parker, Eva's looking a little off to me.
Instead of her typical coral blusher, she's gone with something more coppery. The colour coupled with the shimmer is a bit overwhelming in my opinion. However, her skin looks great here. It's not dry or dull whatsoever considering the turn of the weather for the Autumn season.
Vote and/or leave a comment below to let me know if you're a fan of bronzer no matter the time of year.