Do You Wear Lipstick When You Have a Winter Scarf On?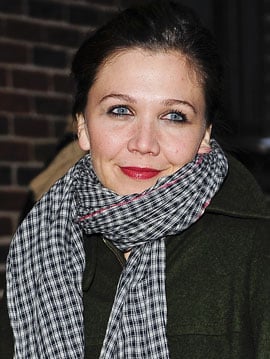 Maggie Gyllenhaal was spotted outside of a talk show yesterday in bitter cold New York City. The actress was dressed smart and warm bundling up in a wintry coat and a black and white checkered scarf.
I love the layered look that's practically a necessity this time of year, but I'm always super careful not to put on my lipstick until I take my scarf off so that I don't stain it and/or make it all sticky. Maggie however seems fearless donning a bright, creamy red lip colour and wearing her scarf around her chin — ahhh, the potential disaster!
Am I overly cautious, or do you too wait to apply your lip product until your scarf is a safe distance from your mouth? Vote below to let me know your thoughts and feelings.