Does Home IPL Work? | Braun Silk-Expert Review
Does Home IPL Hair Removal Really Work?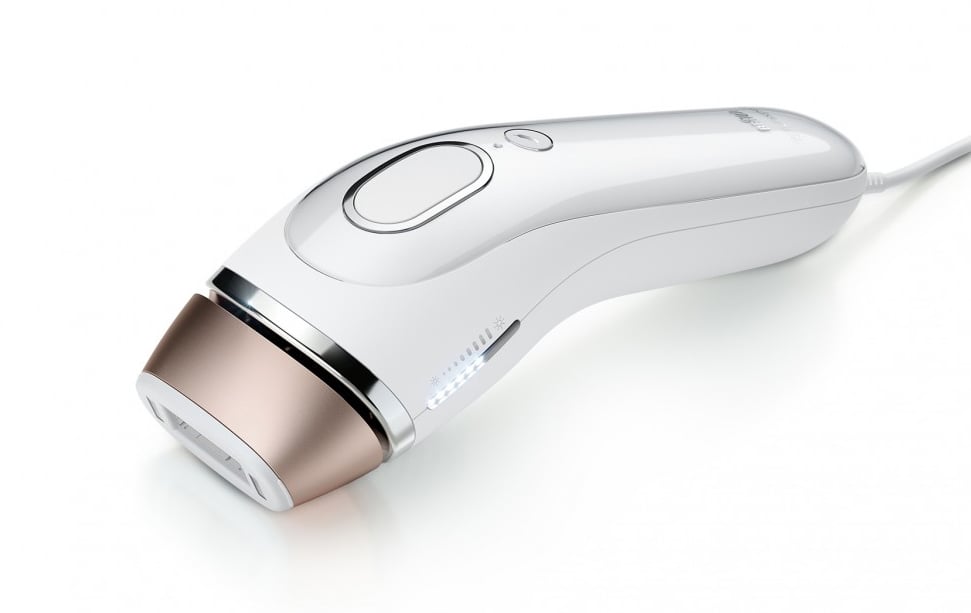 If you're tired of constantly shaving, waxing, or epilating, then you may have looked into more permanent hair-removal methods. Until fairly recently, IPL (Intense Pulsed Light) was only available in salons and came at a high cost. Now there are at-home products that allow you to get similar results from the comfort of your own bedroom. But do they work? For the past few months I've been putting the Braun Silk-Expert IPL device (£400) through its paces, and it's answered a lot of the questions I had about the process. I've broken my experience down into the most common questions I've been asked to help you decide if it's right for you.
How Do You Use It?
The device is handheld with a rectangular light "window" about three inches long and half an inch deep. You press this window over the area you wish to treat and click a button to send a pulse of high-intensity light onto the skin. It targets the hair follicle to stop hair growing back. You'll need to continuously treat the skin in areas of this size one by one, repeating until the hair disappears. For larger areas, you can set the device to click at intervals, but I preferred to do it manually so I could position the device properly in between.
How Long Does It Take to Do?
I can do under my arms in a matter of minutes; it takes about six or seven clicks of the device to cover the area. On the bikini line it's a little longer depending on how much skin you choose to treat (and how long you wait between clicks to deal with any discomfort). The legs can take me quite a lot longer, as I try to target each area and avoid missing any sections. It's worth noting you're supposed to use it after removing the hair using your usual method. If you don't, results won't be good and you'll smell burning hair (which is pretty disgusting). I tend to shave the day before I use the device.
Does It Hurt?
For me, this varied depending on the area I was treating. We all have our own pain thresholds, but if you've waxed, tweezed, or epilated before, you'll be pleasantly surprised by how painless the procedure is in comparison. On my legs I felt no pain at all, just a little bit of warmth and a slight tightness to the skin the next day. On the armpits it felt hot but not too unpleasant. Unsurprisingly it was on the bikini line where the "pain" was most noticeable. But I would describe it as a very mild stinging sensation. Compared to a Brazilian wax, it was nothing. It was unpleasant but definitely not unbearable.
Does It Work?
The big question! The short answer is yes, but only under certain circumstances. Firstly, though the device is designed to "read" your hair and adjust itself to suit, you will get the best results if you have fair skin and dark hair. The IPL device targets pigments, so those with the strongest contrast between skin and hair will see the best results. I have very fair skin and dark blonde hair. I've seen good results using it on areas like my armpits and bikini line where the hair is darker, but I haven't had quite so much success on my legs, where the fine blonde baby hairs are harder to target.
How Long Does It Take to See Results?
It depends on how often you remember to use it! You have to be persistent and work to a schedule to target hair at the right time for optimal results. This is usually weekly. The idea is to catch all the hairs in their "living" stage to kill off future growth. Braun has very smartly created a free app you can use to track progress and remind you when you need to do a treatment, and this is invaluable if you're forgetful (or lazy). You have to devote some time to using this device if you want results. If you stick to your treatments, you may see results in as little as four weeks, but it took a bit longer for me after a couple of false starts. Due to the way the device works, on quite small areas at a time, it's easy to miss patches so I think for full hair removal, you need to be willing to commit to three to five months of constant use on larger areas like the legs, being very careful to cover every spot of skin you're trying to treat.
Are the Results Really Permanent?
Once you have the results you want, Braun recommends a once-a-month treatment for maintenance. So you're not going to be in a position where you never have to worry about hair removal again, but it'll be a far less laborious process than you're used to (especially on areas that previously needed shaving every few days, like your underarms). Obviously it's not been long enough for me to give my personal opinion on how long-lasting the results are, but it's looking good so far!
Is It Worth the Money?
Shelling out £400 on this device is a huge investment, but if you think about the money you'll save over the years (whether you get professional waxes or just shave at home with an overpriced women's razor), it will even out eventually. But I think for most people it's about the time, not the cost. Those who're likely to get the best results (people with fair skin and dark hair) are often also the people who dislike their body hair the most as it's particularly visible, so there's a definite correlation there. It's also worth noting there are offers on the device all the time (right now there's £100 off at Boots and it comes with an exfoliating brush as an added extra, something you can use long after you've finished treating your hair).
Would You Recommend It?
Overall, yes. Especially for areas like under the arms and the bikini line, which are quick to treat and an annoyance to deal with normally. Not having to shave under my arms every couple of days is a revelation. Due to my fairer hair, I had less success with my legs, though I'm now mostly dealing with baby hairs on the back of my calves and have seen a good reduction in the darker hairs on my shins. I found treating the area around the ankles (where I have darker hairs) a bit tricky as the device is quite wide, but I think I've cracked it now. I should also point out that the product does have a life span of 14,000 flashes. But by Braun's calculations, this is enough for 12 years of use on lower legs, bikini line, and underarms. By then, those follicles should be dead as a dodo!