Dr Obagi Launches Anti-Ageing Skincare Line ZO Skin Health
Bella Brand: ZO Skin Health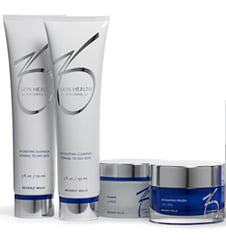 Recently I was lucky enough to meet with skincare guru and expert dermatologist Dr Zein Obagi to talk about how to prevent skin ageing. Dr Obagi is often referred to as a maverick and a visionary; with a vast array of experience working with plastic surgeons, doctors and dermatologists he is undoubtedly one of the leading experts in skin health. Dr Obagi is also a charismatic lecturer and teacher, as well as having successfully corrected a wide range of skin conditions for his clients, which range from facial melasma and acne scars to deep wrinkles and unsightly age spots.
This month he has launched ZO Skin Health, which is available in the UK exclusively at Harrods and Selfridges. Unlike traditional anti-ageing brands, ZO Skin Health aims to set off a reaction whereby the skin nourishes, repairs and maintains itself. For what to expect from the line plus Dr Obagi's philosophy behind the range, just read more.
Dr Obagi's philosophy for younger looking skin is based on the premise that at a basic level, young skin is just about the cells functioning properly. By age thirty the whole system slows down and so the skin loses collagen, elastin and starts to become loose. Wrinkles form because the skin cells stop renewing themselves and the complexion loses it's vitality. The circulation also suffers which stops the blood getting to the skin and makes the surface appear dull.
Dr Obagi believes that applying moisturiser on top of this 'sleepy' skin won't work. Instead no matter how expensive the cream, it will just sit on the surface. Instead, the skin needs to be woken up using products such as retinolic acid, which causes a reaction on the skin, so that it literally has to repair itself. However, there are many issues with retinolic acid; it makes the skin dry and irritated, it smells horrible and it's also an unstable ingredient which breaks down when added to oil or water based products. At the moment no cream on the market contains retinol at a level beyond 0.2 or 0.3%, which Dr Obagi claims is too weak an amount to be effective.
ZO Skin Health, however, contains the substance at a high enough level to encourage the complexion to revitalise itself. He says, "I want to bring the science to skincare." I'll be writing a review of the products next week, so watch this space for the verdict.