Dr Sebagh Supreme Maintenance Serum Anti-Ageing Face Serum Cream. How To Look Younger Instantly
New Product Alert: Dr Sebagh Supreme Maintenance Serum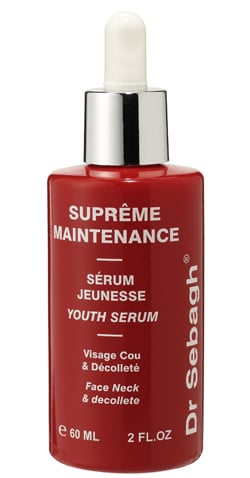 As a cult high-end beauty brand, with enviable scientific credentials, when Dr Sebagh launches a new product the beauty world sits up and takes notice. Cue the new Supreme Maintenance Serum, a youth-boosting miracle serum to increase radiance and make you look at least ten years younger.
For Dr Sebagh looking ageless is about smoother, firmer skin, a brighter complexion and an increase in elasticity and tone. This wonder product promises to do all that and more. The serum also offers excellent protection against environmental pressures on the skin, fighting the causes of ageing whilst at the same time rejuvenating the complexion for a youthful glow.
It's designed for use on the face, neck and decollete and boasts the highest concentration of active ingredients available on the market, a whopping 95%. A cocktail of nourishing ingredients work to give you a facelift-in-a-bottle effect, although much more natural-looking. It's autumn's latest skin saviour and we're already addicted!