Dragons Den Backs Scents of Time Perfume Now at John Lewis. Recreating Cleopatra's Perfume
Dragon's Breathe Fire into John Lewis Perfumes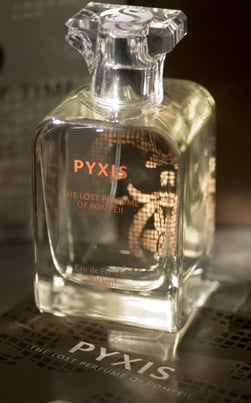 Dragons Den is all set to create another happy ending as the new perfume range, Scents of Time hits the shelves exclusively at John Lewis this month. With the backing of Peter Jones and Theo Paphitis, the range will be available at five key branches of the department store, nationwide from 9th October 2008.
Scents of Time is the brainchild of David Hunter Pybus, dubbed the "twenty-first century Indiana Jones of the fragrance world". The range of four fragrances have been recreated from original scents of centuries past, using ancient aromas to create deliciously unique scents.
David, through his skills as an aromancer, has been able to successfully reconstruct the lost perfume of Pompeii, Tutankhamen's aroma of intrigue as well as the sacred scent of Cleopatra. He has successfully reconstructed the perfumes based on preserved samples, historical literature and ancient recipes, keeping the original aromatic experience intact.
There are three women's fragrances and one unisex scent. From Nenufar, which has been recreated with blue lotus water lilies favoured by the Pharaohs, to Pyxis formulated from a combination of flowers, fruits and spices found in Pompeii perfumer Sperato's garden; each scent has a unique story behind it.
For an opportunity to meet with the dragons and get signed bottles of the perfumes, just read more.
Says Peter Jones, "When David presented Scents of Time on Dragons' Den his passion and enthusiasm were obvious but what really stood out was that he had a new and original approach to an established business. The fragrances that he has launched have fascinating stories and history so hopefully they will capture the imagination of the consumer."
David Hunter Pybus will be joined by Peter Jones and Theo Paphitis to explain the remarkable stories behind these fragrances and to sign bottles at John Lewis Oxford Street on Thursday 9th October, from 5:30-6.30pm. Definitely one for the diary.