Drew Barrymore Hair
How To Get Drew Barrymore's Bardot-Inspired Hair
At last night's Los Angeles premiere of Grey Gardens, actress Drew Barrymore walked the red carpet with her hair styled in sexy, wild Brigitte Bardot-inspired waves. She had in a faux-piece to create volume and length, and wore winged eyeliner, retro pink lipstick and a St. Tropez-esque boho chic Alberta Ferreti dress to complete the siren of the 60's look.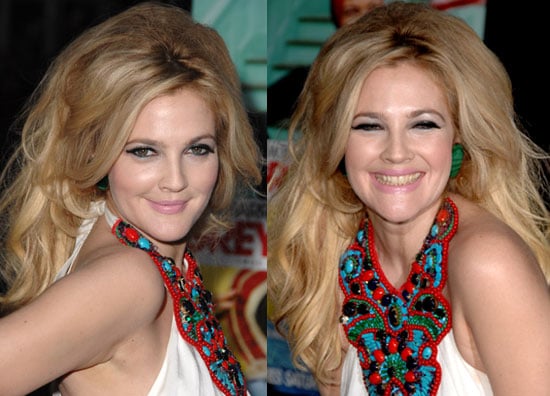 BellaSugar US has the skinny on how to get Drew's 1940's netted hairstyle. To find out how to re-create this look at home, and to see more photos from last night's event, read more.
STEP 1: Wash and condition hair and apply a palmful of styling mousse to the lengths of the hair. Next, spritz in a generous amount of volumizer (with hold) such as Lanza Volume Root to the roots, and blow dry straight. Once hair is dry, set hair in rollers to create even more volume.
STEP 2: After leaving the rollers in for about 20 minutes (this is a great time to start on your makeup), gently take them out. Then shake your head upside down to loosen the curls and flip hair back up. At this time, carefully clip the crown of your hair together and secure your hairpiece or your extensions.
STEP 3: Now the fun begins! Using a soft brush, or a comb, tease the crown of your hair. Also, since we're going for mega volume, include a few pieces from the sides too.
STEP 4: Once you've teased your heart out, hold hair up in sections, spray your newly teased roots and hold until the spray dries (just a few seconds). Repeat until you're finished. Lastly, take a brush, and ever so gently, smooth hair back. Finish by finger coming the curls and mist your entire head with hairspray.