Drew Barrymore Makeup, Drew Barrymore Lipstick, Drew Barrymore Blonde
How-To: Drew Barrymore's Fine Tuned Makeup
Last night in Hollywood, Drew Barrymore, Kate Beckinsale and Robert De Niro arrived at the premiere of their new movie Everybody's Fine looking glamorous as can be. To honour the occasion, Drew even matched her lips to the red carpet standing out in a beautiful purple gown paired with polished hair and smooth, flawless, even skin. To shop some product suggestions for her makeup look, check out the ShopstyleUK widget below: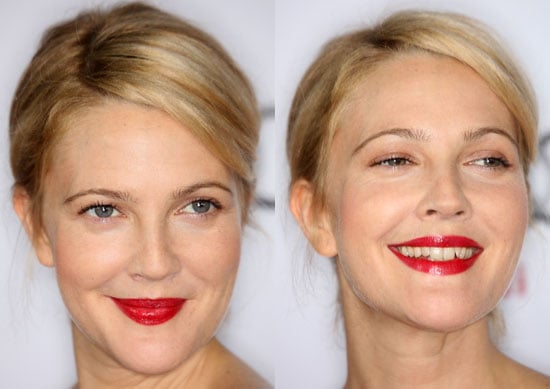 And, if that's not enough, to learn how you can recreate Drew's red carpet makeup at home by following these step by step directions, just read more.
FACE: Begin with a clean, exfoliated face and apply an anti-redness moisturiser. Next, blend a makeup primer all over and let it soak in for about one minute. When you're finished, apply your foundation with a brush or a sponge for the most even coverage possible followed by concealer. Then, dust a translucent powder over your face to set the foundation and buff it out well with fluffy brush for a natural finish.
CHEEKS: All you need is a touch of colour on the cheeks so that you don't look washed out. I recommend a winter rose or a warm peach (nothing too apricot) lightly swept over the apples of your cheeks and along the cheekbones.
EYES: Drew is a Cover Girl, and talk about easy breezy eyes — this look is super simple to create! Begin by tweezing and filling in your brows, as they will serve as a frame for your face. Then, curl your lashes and apply two coats of black mascara (false lashes are optional). When it's dry, blend a shimmery cream or powder champagne shadow from your lash line to your crease and blend well — fini!
LIPS: Since lips are the focus of this look, they are going to take more time to pefect than usual. However, don't be intimidated by a bright colour. Begin by using a reverse lip liner just outside the rim of your lips so that the colour doesn't bleed. Then, fill your lips in with red lipliner, red lipstick (use a lip brush for precision) and if desired, top off the look with a clear or sheer red gloss!