Dye your hair pink like Lily Allen with Fudge Paintbox hair dye
Beauty Copycat - Think Pink Like Lily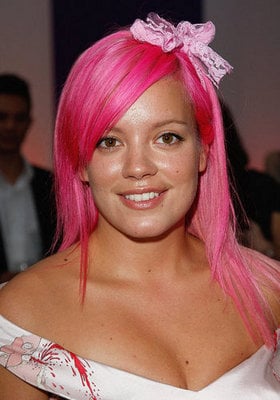 Love it or loathe it, Lily Allen's flamingo pink hair has certainly been getting a lot of attention from those first pics at the Glamour Women of the Year Awards to her recent (slightly grown-out) look in LA. Although it's a little bright for me, I salute Lily for daring to look different, and the bold colour actually really suits her skin tone and dark eyes.
If you're feeling brave - get the look at home with street-style brand Fudge's range of Paintbox, semi-permanent hair colours (£7.95). They have two pink shades - Pink Moon, which is a very nu-rave, fluorescent pale pink and Pretty Flamingo - a hot pink like Lily's.


You can also mix them with Fudge Whiter Shade of Pale (£10.95), to create a softer, baby pink, that's better suited to pale skin. Think Scarlett Johansson's pink wig in Lost in Translation.
The Paintbox colours are free of ammonia and peroxide which makes them more gentle on the hair and as they're semi-permanent you won't get dramatic regrowth. Be warned though, even semi-permanent colours can be tricky to get out, so be extra-careful if you have very pale or dry hair. I recommend using a deep conditioning mask, like the Bumble and Bumble Creme de Coco Masque, the wash before you dare to dye, to protect the hair.
Do tell - would you go pink? Or purple? Or green?