Easy Expert Tips. How To Get Perfect Clump-Free, Long Thick Eyelashes. Beauty and Makeup Trends Autumn Winter 2008
A Quick Tip For Perfect Lashes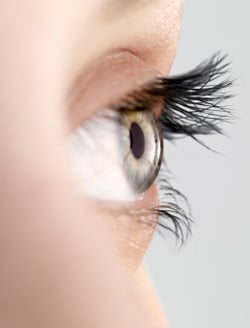 If you're planning on batting for England this season, the key to autumn's latest looks is Bambi-esque lashes with plenty of fluttering potential. Whether you're working the metallic trend, going all out with goth glamour or contrasting dark eyes with nude lip shades; long, luscious lashes are always super desirable.
For fail-safe, long lashes, here are some expert tips:
Make sure that the mascara wand is free of clumps. A quick wipe with a tissue will ensure smooth results. Also, wiping around the actual tube will prevent a build-up of product for further applications.
Curl lashes then aim to use as little mascara as possible. Over-loading lashes with product only makes them look thick and spidery, instead of long and fluttering.
Position the mascara wand at the very roots of your eyelashes. Wiggle gently to ensure coverage while carefully lifting from the roots.
Increase the movement by slowly wiggling the wand in a zigzag motion from the roots to the ends. Don't overload the ends of the lashes as this will make them heavier and the curl will droop.
Finally, while the mascara is still wet carefully brush through with a clean mascara brush. I use one from an old mascara. Alternatively use an eyelash comb for extra precision and to get rid of clumps.