Eos Cooling Chamomile Lip Balm Review
Eos Launched a $3 Cooling Menthol Balm That's Flavored Like 1 of Your Favorite Teas
As POPSUGAR editors, we independently select and write about stuff we love and think you'll like too. If you buy a product we have recommended, we may receive affiliate commission, which in turn supports our work.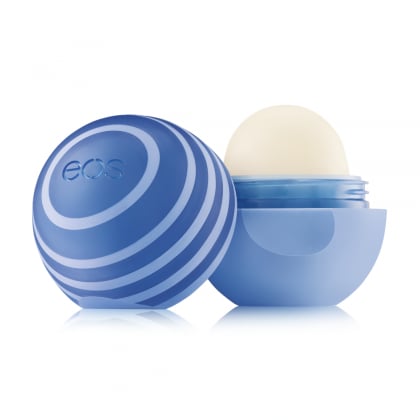 As the weather in New York, and much of the states, continues to fluctuate as much as my weight does during the holiday season, bitterly low temperatures can lead to chapped lips. If you've been bouncing between different balm options to no avail, this new medicated Eos option just might make your plump lip dreams come true.
The new Medicated Pain Relieving Lip Balm ($3) is made from real chamomile. Besides being the best flavour of tea (Earl Grey fans, come at me), chamomile boats a plethora of beauty benefits. The flower extract contains phenolic compounds that work as antioxidants, plus it touts anti-inflammatory, hydrating properties. It eliminates free radicals that develop on the skin, which makes it a go-to for anyone who wants to combat the visible signs of aging.
The "medication" in this balm is menthol, a type of alcohol derived from mint oils. That's what delivers the balm's cooling sensation, which coats your lips in a bolt of chilly spice that temporarily numbs and relieves pain. This balm also contains aloe to soothe and destress skin, along with cocoa and shea butters, olive and jojoba oils, and vitamin E. Unlike the brand's new see-through crystal lip balm, this hypoallergenic and gluten- and paraben-free one looks like the OG opaque white option.
Plus, as an affordable staple, this new Eos drop is available in your local drugstore aisle. Pick it up the next time you can't even with your chapped Winter lips.