This season, the Erdem girl had a change of heart. Whilst in February, she was scorned and angry, she's now a jet-setter in the mood for love. The makeup, done by Andrew Gallimore for MAC, has a sexy and girly soft focus where nothing is too defined. The face was prepped with Face and Body Foundation and a bit of concealer where needed. Cheeks were tinted with Tendertones in Hot and Saucy (a new product due out next Spring) to create a slight blush and radiance. Lips were stained, not painted, in red and then a touch of red pigment was layered gently over the top. Balm was used on the eyelids for a glossy effect and lashes were coated with Plush Lash Mascara in Plush Black.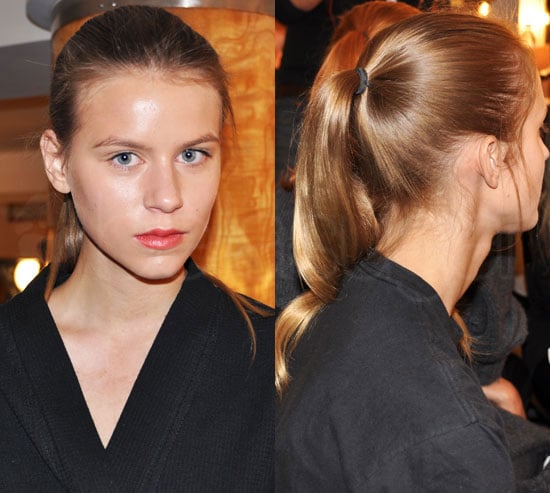 Hair, was created to "look like she belongs in the South of France where the women are chic, architectural, mature, and womanly" said Charles Worthington. He pulled it into a midlength ponytail and sprayed it at the root for lift and then tonged the lengths with a thick barrel, as not to make it look too done or pageant like.
Skin was also paid special attention at this show. St Tropez was there to add a whisper of colour to the body before rubbing on a light blue illuminator. This brand new product still does not have a name; however, it won't be called Smurfette, despite all the backstage jokes. When it's applied, skin catches light in the most magnificent way without appearing grey or dull. Check out my photos below. and let me know what you think of the beauty style at Erdem.
Photos by Jamie Roy, FabSugarUK