Estee Lauder Want Your Beauty Gossip
Estée Lauder Want Your Beauty Gossip!
I don't know about you, but there have always been a few makeup techniques that have eluded me. The perfect brow, for instance, I have never been able to achieve. Meanwhile, my attempts at creating a rock chick smokey eye shadow have ended up looking more like Alice Cooper than a music goddess! That's why I was excited to hear about Estée Lauder's latest project Beauty Gossip. The free initiative runs this month in all the brand's concessions and offers informal mini makeup tutorials to consumers on everything from creating the perfect brow, to tips on making makeup last all day long.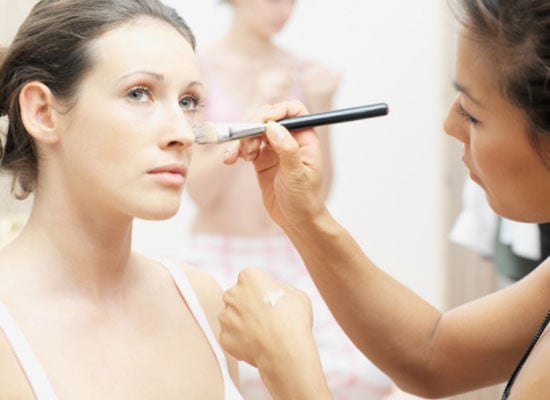 I swung by Estée Lauder's counter in Selfridges yesterday to check it out. To find out how I got on, just read more.
Karman is the chief Beauty Gossip advisor at Selfridges' concession. Together we decided that we'd focus on my eyes, working first on my brows, and then on my lashes and eyelids for that dramatic smokey look I'd always wanted.
Brows: Apparently brows should always start level with the inner corner of the eye. Using a soft pencil Karman gently marked out the arch of the brow from here, giving it definition at the arch. She then combed them through to blend in the colour, and finished with a clear brow gel. Always make sure you have the right shade pencil for your colouring.
Eye Shadow: Karman started by creating an eyelid base on the back of her hand from concealer and soft eyeliner. She mixed this with her little finger and it created a pale grey colour, which she then gently dabbed on to my eyelids. She then applied a glittery black eye shadow to the crease of the lid, working it upwards to the rest of the lid. She finished it off with black eyeliner to the top and bottom of the lid. (Always leave face foundation until after you've done your eye makeup so you don't have to re-apply.
Mascara: Karman first applied lash primer, a white instant-drying substance, to my lashes. She then hit the jet-black mascara, applying it downwards to the top of the lashes first. She then worked upwards from the root making sure each last was defined by shifting it slightly as she made the stroke.
The Verdict: I was really happy with the lesson and the look. This is a great way to learn practical quick makeup tips without going through a lengthily makeup course. Karman went through each stage explaining which products she was using and answered all questions confidently. The products were lovely on the whole too, and stayed on all afternoon. Good job!