Eva Longoria Launches New Fragrance in London!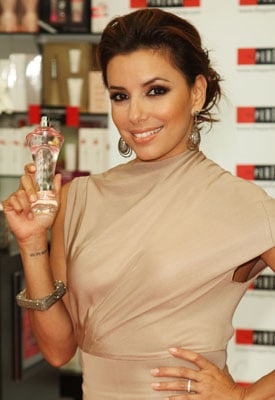 I don't know about you, but personally I've been excited about Eva Longoria's new fragrance Eva ever since it was first announced last Spring!
Over the weekend, the Desperate Housewives actress swooped in to London's Westfield shopping mall to unveil the scent personally at The Perfume Shop (£27.50).
Eva lapped up the flashblubs at the event sporting a sensational nude cocktail dress before stepping out with celeb pal Victoria Beckham for dinner dressed in one of her designs. Victoria tweeted: "Out with @evalongoria who is looking amazing in one of my dresses from the fall collection."
Eva by Eva Longoria is already going to the top of my celebrity fragrance list. The scent is a lovely feminine mix of citrus notes, jasmine, violet and amber. Delish! It's made by the same company as Jennifer Aniston's debut iconic scent, The Falic Fashion Group. I can't wait to see who they team up with next.
Are you interested in her new scent?