Exclusive Backstage Photos and Interview with Hairstylist Samantha Hillerby at Jenny Packham Show at London Fashion Week.
Pretty Punk at Jenny Packham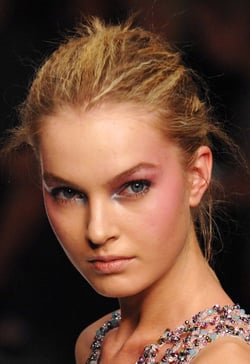 At the Jenny Packham show artfully folded tulle and delicately ruffled chiffon was encrusted with multi-coloured crystals for a show-stopping effect. The colours ranged from bright fuschia to orange, lilac, cerise and dusky pink. Whilst Packham's collections are always on the wearable side of glamour, there was a definite hint of 80's debutante in the short, fitted shapes and bright makeup.
Catwalk hairstylist Samantha Hillerby created the hair looks for the show. Her inspiration was "young, fresh and modern. The clothes are evening wear but we wanted the girls to still look cool." Samantha aimed to give the hair a styled-at-home edge by not making it too formal or fussy. She added, "I wanted to introduce a suggestion of 80's and a bit of punk, but still keep it chic and classic."
For her expert tips for re-creating the look at home, plus some exclusive backstage pics, simply read more.
Samantha crimped the models' hair to give that 80's feel and to accentuate the texture. The aim was for an up do that looked part-debutante, part-punk.
Next, the hair was wrapped up into an easy chignon. Samantha suggests "It should look like you've just done it yourself. Nothing too perfect. I wanted to avoid the girls' looking too done."
For an easy chignon, start from the base and twist hair up. Do it quickly and effortlessly "as if you were just holding back your hair to wash your face" recommends Samantha.
Simply pin the chignon into place for a classic silhouette. Leave any flyaways and just spray with a hairspray to hold the style.