Exclusive Backstage Photos and Interviews with Models at Makeup Artist Rachel Wood at London Fashion Week. Harriet's Muse Show
Backstage Pass: Disney Screen Siren at Harriet's Muse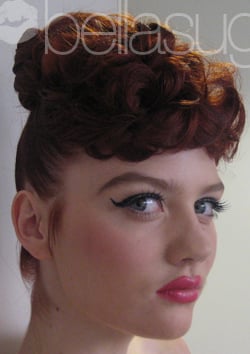 Backstage at the Harriet's Muse show, yesterday at London Fashion Week, internationally renowned makeup artist Rachel Wood was working her magic on the models. The inspiration behind the graphic, cartoon makeup looks was Hollywood screen siren meets Disney.
"I wanted to do Audrey Hepburn eyes and Marilyn Monroe lips" Rachel told me "but as though Disney was doing a cartoon version of them." Cue exaggerated Old-Hollywood glamour with winged eyes, oversize red and pink pouts and a simple, yet flawless base.
I was lucky enough to interview Rachel as she was making over the girls backstage and she was full of useful hints and expert tricks about how to re-create this catwalk look.
For more exclusive backstage pics and an easy how-to get this exaggerated 40's style, simply read more.
Eyes: Rachel prepped eyes with Benefit Lemon-aid, (£15.50), to ensure that the makeup would last. Often backstage models are made-up four hours before they go onto the catwalk so long-lasting looks are a must. Rachel then used Benefit Badgal Eye Pencil, (£12.50) to create a dramatically lined eye. Finally plenty of Benefit Get Bent mascara, (£14.50), was applied for a wide-eyed effect. Diamante gems were then placed at the roots of the lashes for added glitz.
Face: Base was kept matte but still luminous. Rachel used Benefit Erase Paste, (£18.50), to brighten the models' complexion. It's a great concentrated, yet creamy concealer that is especially good for reducing signs of tiredness. Next, minimal blush was applied along the cheekbones for a subtly sculptured effect. As the eye and lip looks were so strong, Rachel purposefully kept the blush light so as not to "spill over into drag queen territory."
Lips: Marilyn Monroe's rosebud lips were given an exaggerated twist in fruity shades of orange and pink. The cupid's bow was turned into a graphic inverted triangle which Rachel created by drawing an outline that started in a point at the top of the lips, and then literally colouring it in with lipstick.
Nails: To pick up the fruity bright shades on the lips, Rachel used Nails Inc. polish, (£10.50), in Sloane Avenue. The bright makeup and retro hair provided a show-stopping contrast with the mainly monochrome corset-based collection.