Exclusive! Diana Vickers Shares Beauty Faves!
Exclusive: Diana Vickers Shares Beauty Faves!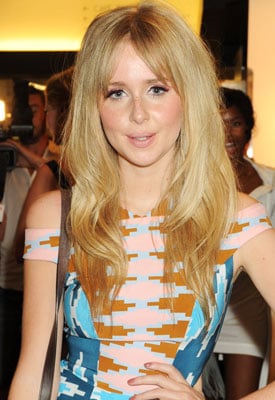 I've been a fan of Diana Vickers ever since she appeared in 2008's X Factor, but things seem to be going stratospheric for the popstrell now! Not only is her music going down a storm, her personal style is too.
I ran in to Diana last week at the Marc Jacobs Bang fragrance party and managed to grab a couple of minutes with her to talk beauty, grooming tips, and Marc of course.
Diana was on great form sporting a stunning patterned Julian J. Smith dress with shoulder length blonde tousled hair, a long sultry fringe, and dramatic black lined eye makeup. She looked gorgeous!
To check out what she said, just read more.




What are your must-have beauty products?: "I LOVE Kimberley Walsh's eyelashes (£5). They're fantastic and look amazing. I always use Laura Mercier Secret Concealer (£18), which is brilliant. MAC lipsticks are great. I'm also really loving St. Tropez's bronzing rocks (£30).
When it comes to beauty: Do you see yourself as high maintenance or a wash-n-go girl?: "Both! If I have an occasion I will do the whole lot, from top to toe, which is fun. But then there days like today when it's the opposite. This morning I was supposed to be out of the door at 9.30 am, and only got up at 9.10am! I got ready really fast."
What are your top beauty tips?: "Get lots of sleep. Always take your makeup off before bed. Oh, and drink lots of water."
Are you a fan of Marc Jacobs?: "I love Marc!"
Thanks Diana!