Exclusive! Five Minutes With Burberry Face Nina Porter!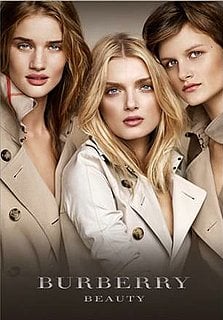 I love it when a new fresh face emerges on to the modeling scene! And they don't get any fresher than Nina Porter.
Nina is still in sixth form but has already managed to land the landmark Burberry Cosmetics campaign this year, starring alongside Rosie Huntington Whiteley and Lily Donaldson. Industry big wigs are dubbing her the next Stella Tennant, thanks to her unique look.
I ran in to Nina last week at the Marc Jacobs' Bang fragrance party, and managed to grab five minutes' chat with her. She was so sweet! I am predicting big things for this girl.
To check out what she said, just read more.


What it like being the new face of Burberry Beauty?: "I'm still at school so it's a bit strange. I'm studying textiles and photography but want to end up in fashion design."
How does it feel being compared with Stella Tennant? "It's amazing! She's also signed to my agency Select Model Management so it's a real inspiration."
How would you describe your beauty look?: "I don't like to go over the top. I'm very much like the Burberry Beauty (£15-30) range in that sense. I like making my eyes the main focal point when I meet someone so I don't go strong on lips. I love the Burberry dark eyeshadows. They also do a great understated lipstick."
What's it been like hanging out with Christopher Bailey and Mario Testino who shot you in the campaign?: "Great! They're both so lovely and have fantastic sense of humour. Christopher is very kind and sensitive. Mario is so funny too! He makes you relax straight away."
Are you a fan of Burberry Beauty?