Exclusive! Five Minutes With Gareth Van Cuylenburg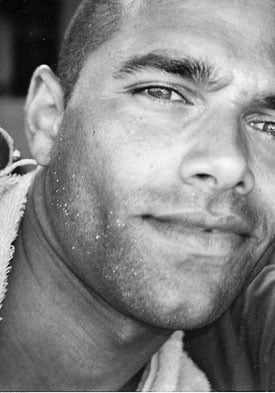 Exciting news! Just when we couldn't love John Frieda salons any more, they take it up another notch. This month the company has tapped guru Gareth Van Cuylenburg to join its crack team.
Gareth is an industry veteran having tended the tresses for style bibles Vogue, Elle, Harpers Bazaar, I-D Magazine and Dazed and Confused (among others) and is widely known in the business for his directional creations. He's now taking clients at John Frieda's Marylebone salon. (Book quickly!)
Gareth has an unusual background. He was born in Sri Lanka and spent his childhood living in the mountains there before his family moved to Australia. In his early twenties he got an apprenticeship in hairdressing and the rest, as they say, is history.
Since then Gareth has moved to London and worked for ten years with Toni & Guy alongside extensive editorial work. In the process he's gained a loyal fan base. I managed to grab him for a quick five minutes this week. To find out what he said, just read more.
How does it feel to be working in a salon again? "It's great! It's really exciting."
What are the main differences between working on magazine editorial hair and everyday hair? "I think you get to really hone your craft cutting people's hair. I was formally trained as a hairdresser so I will always love cutting."
Is your editorial work more directional? "Not always. I think salons are a great place to innovate and experiment. Look at Vidal Sassoon. His salon was hugely influential at its peak and had major influence on hair trends."
What are the main hair trends we should look forward to this Autumn? "I love the pixie cut gamine look. It's almost androgynous. There's a lot of that around. It's a great look and can be varied a lot, keeping it long on the top, or swept to the side. There's also a lot of wet-look hair, almost drenched and is scraped back away from the face. It's quite edgy and has a 1980s feel to it. Almost like the Robert Palmer Addicted to Love video."
What are your top tips for keeping hair looking good in Autumn weather? "Moisture. Just give hair tons of moisture to make sure it's healthy. If you're having regular blow dries, I'd also recommend using a good mousse. This helps to protect the hair from humidity in the air which can cause frizz."
Great tips Gareth! Thanks!
Click through my favourite John Frieda products here.
Photo courtesy of John Frieda