Exclusive Interview FabSugarUK with Caryn Franklin The Clothes Show and GMTV. 2009 Spring London Fashion Week. Gareth Pugh
Exclusive Interview: Caryn Franklin on London Fashion Week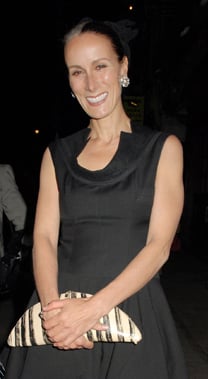 Fashion expert Caryn Franklin has been doing her bit to encourage young designers at London Fashion Week. With an illustrious fashion career that includes being Fashion Editor of i-D magazine in the early 80's; Caryn is most famous for her work as the presenter on The Clothes Show from 1986 until 2000. Nowadays Caryn acts as an expert for GMTV as well as various magazines and websites.
I was lucky enough to get an exclusive interview with her about London Fashion Week, exporting creativity and the designers to watch this season.
What makes London Fashion Week special?
London is a launch pad. Look at Gareth Pugh, I know he's just gone to Paris but he could never have started in Paris. It's the same with Alexander McQueen. You begin small, with unique work and no budget and London facilitates that.
Do you think that's partly because of how the British approach fashion?
We appreciate vision, we love a challenging aesthetic. We lead on this level. I don't think London can ever compete with Paris and Milan, and we shouldn't. We're a tiny little island with delusions of grandeur. We shouldn't worry about trying to compete with mainstream, commercial labels.
For Caryn's views on why London is so important, the designer names to watch and which shows she's looking forward to, just read more.
Is that mainstream commercial approach something you think we should leave to the rest of Europe and New York?
Exactly. The big name fashion editors from America don't come here but they certainly do send their juniors to spot the ones to watch. Then as soon as the labels get bigger and show in Paris or New York, they'll already have their eyes on them. But we shouldn't think that means London Fashion Week isn't important. It is tremendously important in terms of exporting talent. We export creativity.
Which shows have you enjoyed so far and what are you looking forward to?
I liked John Rocha, it was what you expect from him. No surprises but very beautiful. I'm really looking forward to Danielle Scutt too.
Who are the ones to watch in terms of young designers?
Danielle Scutt definitely, and also Roksanda Ilincic. In terms of Brits abroad, I have to say Gareth Pugh. I first saw him four seasons ago and instantly knew there was something about him. He's going to do it. He's carrying the energy.