Exclusive Interview with Style Expert Caryn Franklin Part 2 The Clothes Show, GMTV. 2009 Spring London Fashion Week
Exclusive Interview: Caryn Franklin on Celebrity Style, 80's Trends and LFW
In the first part of our exclusive interview with fashion expert Caryn Franklin she shared her views on London Fashion Week's creative approach and the designers to watch this season. Here she chats to me about how the shows have changed since the 80's and how celebrity culture has affected what we want to wear.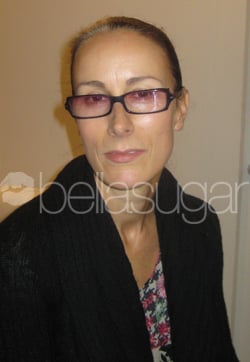 Q: How has London Fashion Week changed since you first started out?
A: I was the Fashion Editor at i-D magazine from 1982-1988 which was such an exciting time for fashion. There was Bodymap, for example, and it was all very eclectic and chaotic. Shows would often not be straight walk up and down affairs. It was like club land on the catwalks, which lots of establishment types found quite unnerving. I think that London made it's mark on fashion in the early 80's.
Q: What was different about the mood of the 80's compared to now?
A: I don't want to sound like I'm stuck in the past, but I remember when I was at fashion college and all of the tutors would bang on about the 60's and how peripheral it was. Now the 80's seems to occupy the same place of affection. I do think though that there was an enormous optimism. We were embracing new technology, new politics and women were seeking equality. The optimism about everything seems quite naive now, but at the time there was so much energy, it was very pure in a way.
Q: Do people care about the catwalk anymore or are they just interested in which celebrities are in the front row?
A: Fashion has always been filtered down by the media through shock tactics. The media uses the fashion industry as it's soft porn, so they'll put a picture of a girl in a bikini from the shows on the front page, rather than the girl in a complicated trouser suit. That's not changed at all except now they'll use the front row pictures instead of the model pictures.
For Caryn's views on how celebrity culture has influenced fashion, read more.
Q: How has the celebrity culture influenced the fashion industry itself?
A: Our culture has embraced celebrity as a measure of success. Personally I don't care if there are no celebs or ten celebs in a crowd but what I do care about is if this helps the industry support itself. The commercial reality is that fashion is a business. People are impressed by celebs so dressing them is what a young designer has to do to stay in the public eye.
Q: There's always been stars but perhaps not so many as right now. How do you think this has changed general attitudes to celebrity in the last five years?
A: Celebrity has become the only measure of success almost. In reality, it's often not been worked for, it's about a lucky break. I think it's slightly dangerous to put so much value on the old-fashioned, almost fairytale story of a poor, out-of-town girl marrying her celebrity prince or the rich footballer and living happily ever after. So many young girls think that if they have the right look and the right clothes then they're more likely to gain access to that world.
Q: Do you think that's changed the way people dress?
A: Yes because we've started to see fashion as another way to market ourselves. We're a very visually-led society now and it's easy to over-market ourselves visually.