Expert Makeup Artist Tips from Backstage London Fashion Week for Covering Spots. Easy Tricks to Conceal Blemishes and Hide Acne
A Quick Tip For Covering Spots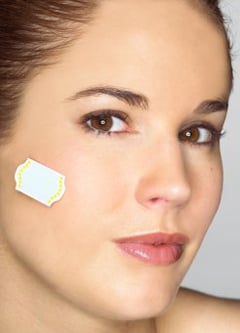 Even with a strict cleanse, tone and moisturise routine plus the odd face mask, we all suffer from the occasional blemish. I'm not exactly sure what the universe is trying to tell me, but generally this always occurs for me before a date or important party. Even though most of us have been learning to conceal our spots now for at least a decade, it's always useful to get some expert advice.
I spoke with make-up artist Becca Harrison, who works for Vogue, The Guardian, The Independent and Elle, as well as creating runway beauty looks this season backstage at London Fashion Week. She suggests following these easy backstage tricks for making your blemishes all but disappear:
Just read more:
Firstly, choose a concealer that matches, or is a shade lighter, than your skin tone. A creamy consistency is best to avoid that caked effect.
Apply with a small brush or a clean finger tip. "The best advice is to apply it sparingly" says Becca "Using too much will have the reverse effect and can draw attention to that which you are trying to conceal!"
Finally, set with a very light dusting of powder. This will give a long lasting effect and no-one will guess you have less-than-perfect skin.