EyeLashes Big Business
Beauty Byte: Big Lashes are Big Business for 2010!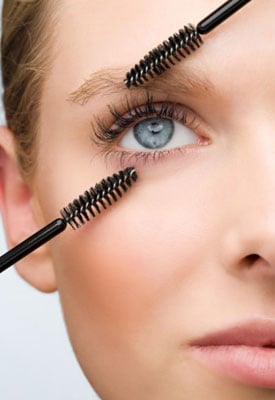 I knew lashes were a major focus for 2010, but not to this degree! According to reports today, lashes, false lashes, and lash enhancers are the fastest growing sector of the beauty industry. Apparently, sales of false eyelashes have gone up 6.2 percent in the US alone this year, raking in a staggering $44 million. Eyelash stimulators, simultaneously, have become a $1 billion industry there!
Last week, I told you about Lancôme's new Hypnôse Precious Cells mascara, a dual function product that helps grow eyelashes at the same time as being makeup. This is set to come out next month, and already there's a waiting list.
There's also a host of other new items on the market here from Enormous Lash, to Revitalash (£95) and Smashbox Lash DNA mascara (£16.20) at Debenhams. Space NK have been steadily building up their offering of Shu Uemura false lashes, hand crafted by an in house team. There are a lot to on offer, from subtle ones to update a day-to-day look, to bright blue and diamante encrusted styles.
So why all the emphasis on lashes? Honestly, I'm not sure. I think it's partly to do with the Lady Gaga phenomenon. Bold makeup is becoming big again as starlets opt for increasingly daring eye shadows, and dramatic looks. Are you becoming more aware of your eyelash beauty?