Eyeliner catwalk make-up trend, like Lily Allen, Alexa Chung and Kelly Osbourne, Jessica Stam.
Trend Alert: Drawing the Line With Winged Eyeliner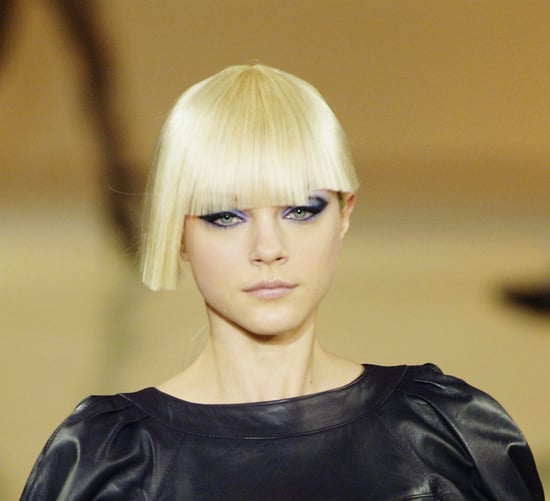 From Lily Allen, to Kelly Osbourne, to our current beauty obsession – Alexa Chung – normally fresh-faced girls are taking inspiration from the catwalks and winging it, eyeliner-wise.
Thick, black liquid eyeliner is a favourite – as seen here on Jessica Stam at the Karl Lagerfeld show. There's a touch of the modern-day Cleopatra about it, plus it's also an easy-peasy way of looking like you've made an effort when time is short. I like Rimmel Exaggerate Liquid Eyeliner, (£4.99), from Boots. You need a steady hand though and be extra careful when lining the lower lashes, so you don't look over done.
A kohl pencil is easier and can look just as effective, especially if you layer. Start with a grey, like Chanel Le Crayon Kohl in Graphite, (£14), and draw along the inner rim of the lower lashes, extending it slightly at the outer corner. Extend horizontally across, rather than flicked up, to really open up the eyes. Next use the same colour on the upper lash line. Then, dampen a dark blue or black eyeshadow, such as MAC Nehru or Deep Truth, (£10), and use a flat angled brush to draw a thin line along the upper lashes. This looks dramatic, without that slightly cheap look that thick black eyeliner can sometimes create.
Navy or granite are the 'in' colours this season. Navy looks cool on brown or hazel eyes, whilst granite makes blue eyes look extra vivid. Experiment with colours and layering though, as it's all about finding a shade that suits.