Facial Cupping and Headaches
The Surprising Facial That Instantly Cured My Headaches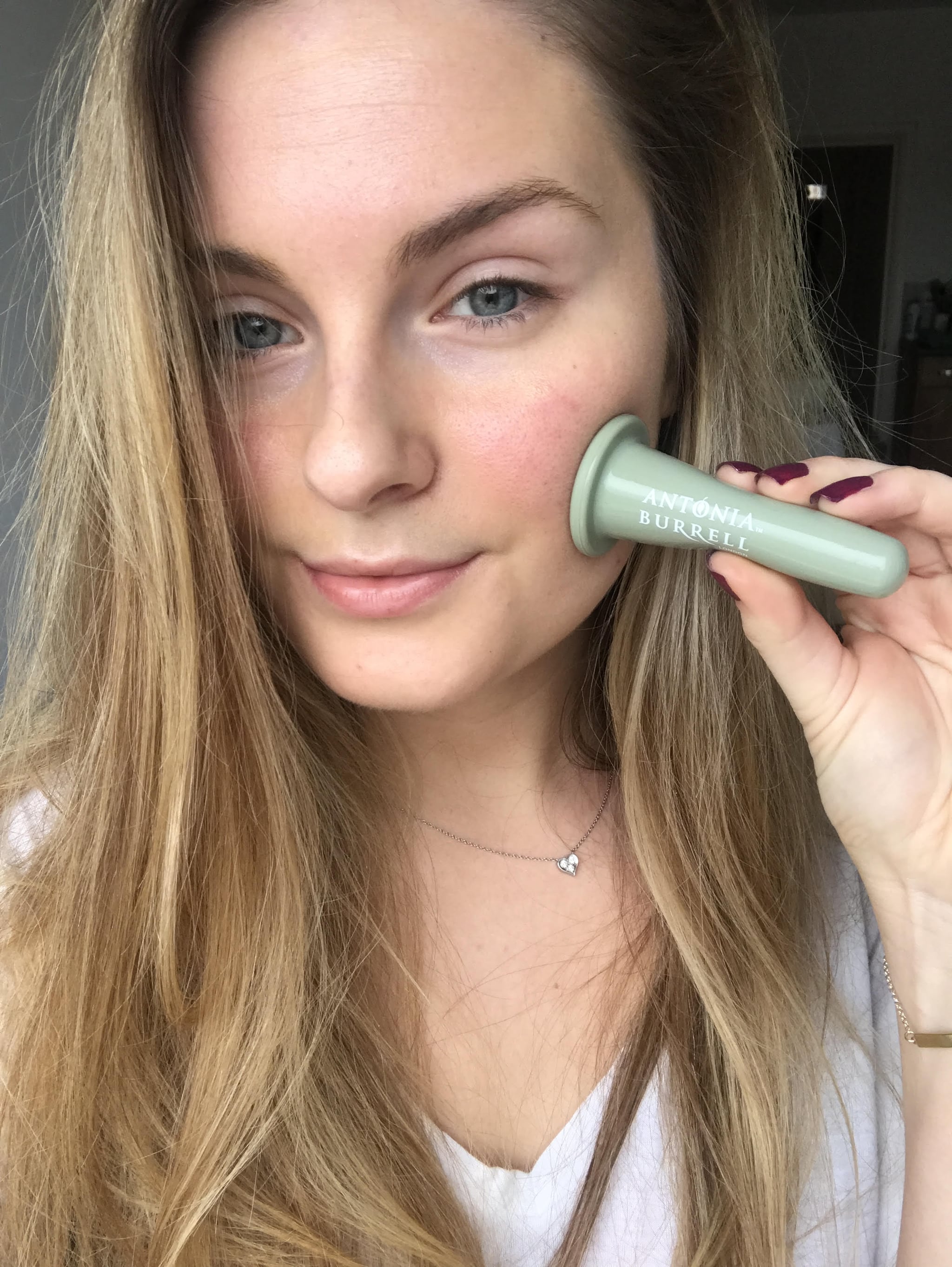 Not much was going through my mind (other than my to-do list for the rest of the day), when I went for a facial with celebrity facialist Antonia Burrell a few weeks ago. I expected to come out relaxed, but I could have never prepared for what else happened: it cured the terrible tension headaches that have plagued me for years.
I get headaches every single night right before I go to sleep, and I've tried everything to get rid of them. My most recent solution was the trustySlip Sleep Mask, but when that stopped working, I ended up having real issues when it came to getting some beauty rest. That is, until I tried a cupping facial. I've not had a single headache since.
I've used the cups on my forehead every other night before bed, and I haven't had a single headache since.
If you're unfamiliar, cupping is a technique that uses small, flexible silicone cups. But unlike the suction technique used on athletes, the facial treatment incorporates face oil and massage. The cups are pressed onto the lubricated skin, then glided across it in specific motions to stimulate circulation and encourage blood flow. I knew a bit about the popular facial and had even used the technique at home a few times, but I focussed on my cheeks and jawline to enhance a natural contour rather than focus on any tension areas. When I visited Burrell for the facial, she worked on the top half of my face, and I instantly felt an intense sensation on the tension points in my forehead. This was when I realised how bad it was. Even though it hurt, she worked out the tension throughout the treatment, and suddenly something clicked: will this help my headaches?
"Cupping activates drainage of the lymph nodes and helps unblock sinuses, relieving swelling and discomfort, as well as relaxing muscular tension and tightness from the face, neck, and décolletage," Burrell told me at the time. It made so much sense. I can't believe I'd never thought of it before.
It's not just headaches that facial cupping can help with, either, but also teeth grinding. "Facial cupping can help relax these rigid muscles and improve circulation, so by concentrating the cupping technique on your jaw, you can help ease any stress, pain, and tightness in this area," she said.
Plus, if you want to maintain the results at home, Burrell created the facial in a box. She recommends using the cups on your forehead, cheekbones, and base of neck to relax your muscles, which can help relieve headaches. Doing this two to three times a week, she says, will give maximum results.
Ever since this facial, I've used the cups on my forehead every other night before bed, and I haven't had a single headache before sleeping since. Of course, everyone's headaches are different, and you should always consult your doctor for your pain relief options, so this isn't to say cupping facials is a universal cure-all. But if you're suffering from tension headaches, it certainly doesn't (have to) hurt.
Image Source: POPSUGAR Photography / Tori Crowther