Facial Cupping at Home
Why at-Home Facial Cupping Will be a New Step in My Skincare Routine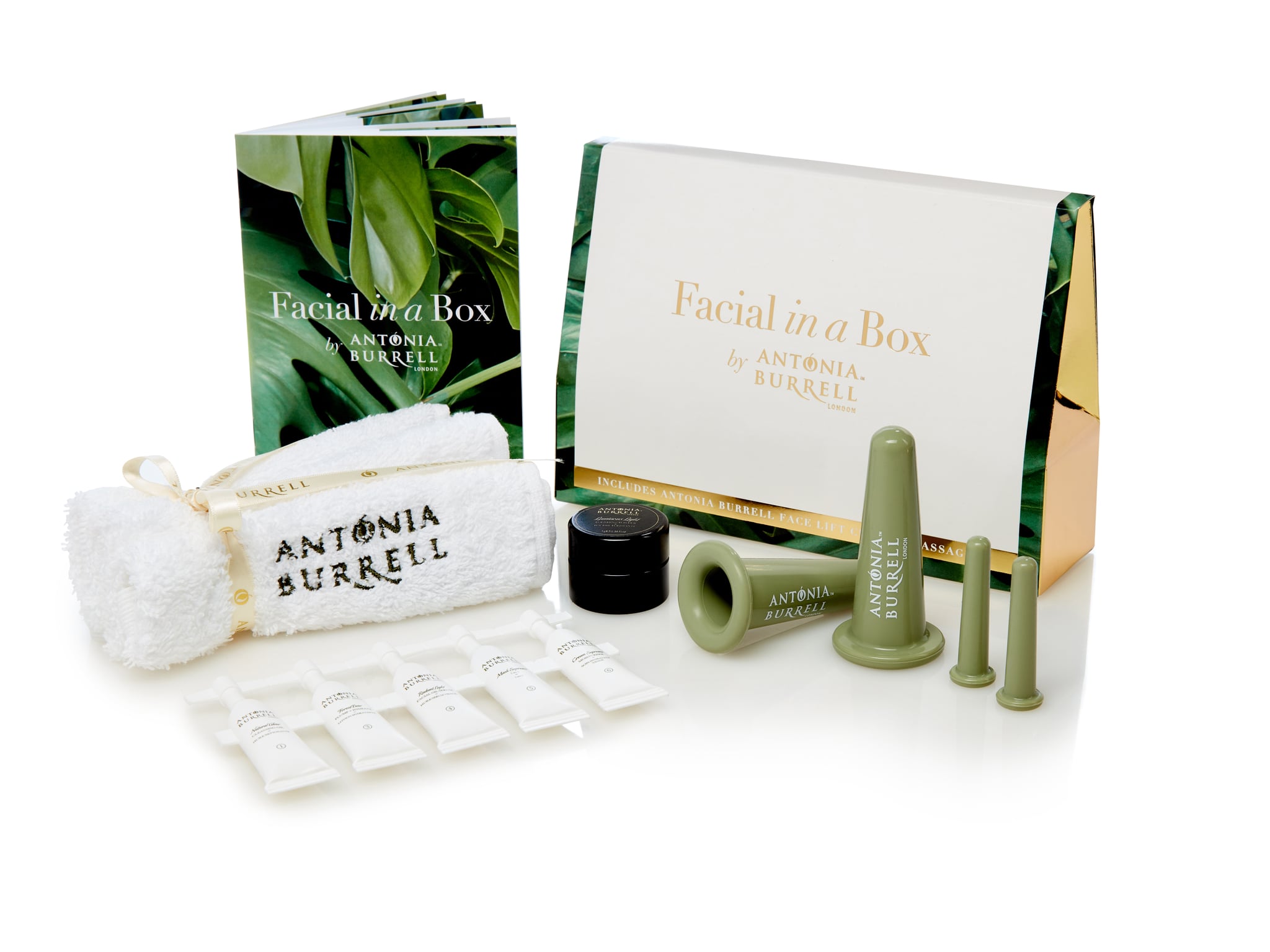 I'll basically try any beauty treatment if it promises clear and glowing skin. One of my aims in life is to have luminous skin, and I'm not ashamed to admit it. I've tried facial shaving, acid face masks, and microneedling, and this time around, I'm experimenting with facial cupping. The best thing? It isn't scary, unlike some of the other treatments I've endured.
Facial cupping is a noninvasive and ancient treatment used to create suction for blood flow, inflammation, and antiageing benefits. Facial cupping aims to give you plumped, contoured, lifted, and firmer skin overtime. The cupping helps with blood flow and encourages cell turnover, which helps to reduce fine lines and wrinkles. All I needed to hear was "contoured," and I was sold. I used the Antonia Burrell Facial In a Box (£25) as my weapon of choice.
The Facial In a Box contains five ampoules of different skincare products, a small tub of exfoliating powder, two big cups for the face contour, two smaller ones for the eye area, and a flannel. Talk about value for money! Each ampoule is designed for one-time use, but I think you could get two uses out of most of them. The powder could also be used more than once. The cups are reusable, and I'll definitely be incorporating them into my Sunday at-home facial. The box contains a seven-step routine, so you'll probably want to sit down for this one. All the instructions are included on the website for maximum cupping contour power.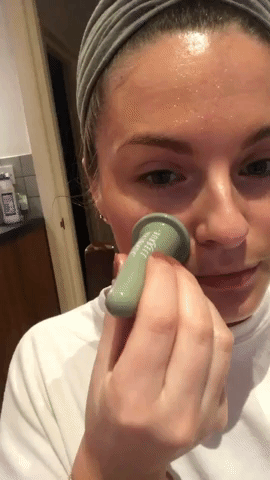 The first thing people asked me when I posted a video to my Instagram Stories was whether the treatment hurts and if the cups get stuck. I promise it doesn't hurt a bit; it was actually quite relaxing. The cups will not get stuck on your skin. I had to press them onto my skin with quite a lot of force, so I could control the pressure.
I've been struggling with a hormonal breakout recently, and I found that facial cupping did bring out my spots a little more afterward. This isn't unusual: a deep cleanse will often bring those deep-down blemishes to the surface. What's important is what happens in the following days, and I noticed a significant improvement in my skin. Antonia Burrell says that facial cupping is safe for those with skin conditions as it "helps clear toxins via lymphatic drainage, increases blood flow, and helps ease inflammation, which makes it a great option even for those with conditions like acne. However, if the acne is very pustular or the spots are large and painful, maybe just use the smaller cups, which offer a gentler massage that won't irritate the skin. This is also ideal for sensitised skin."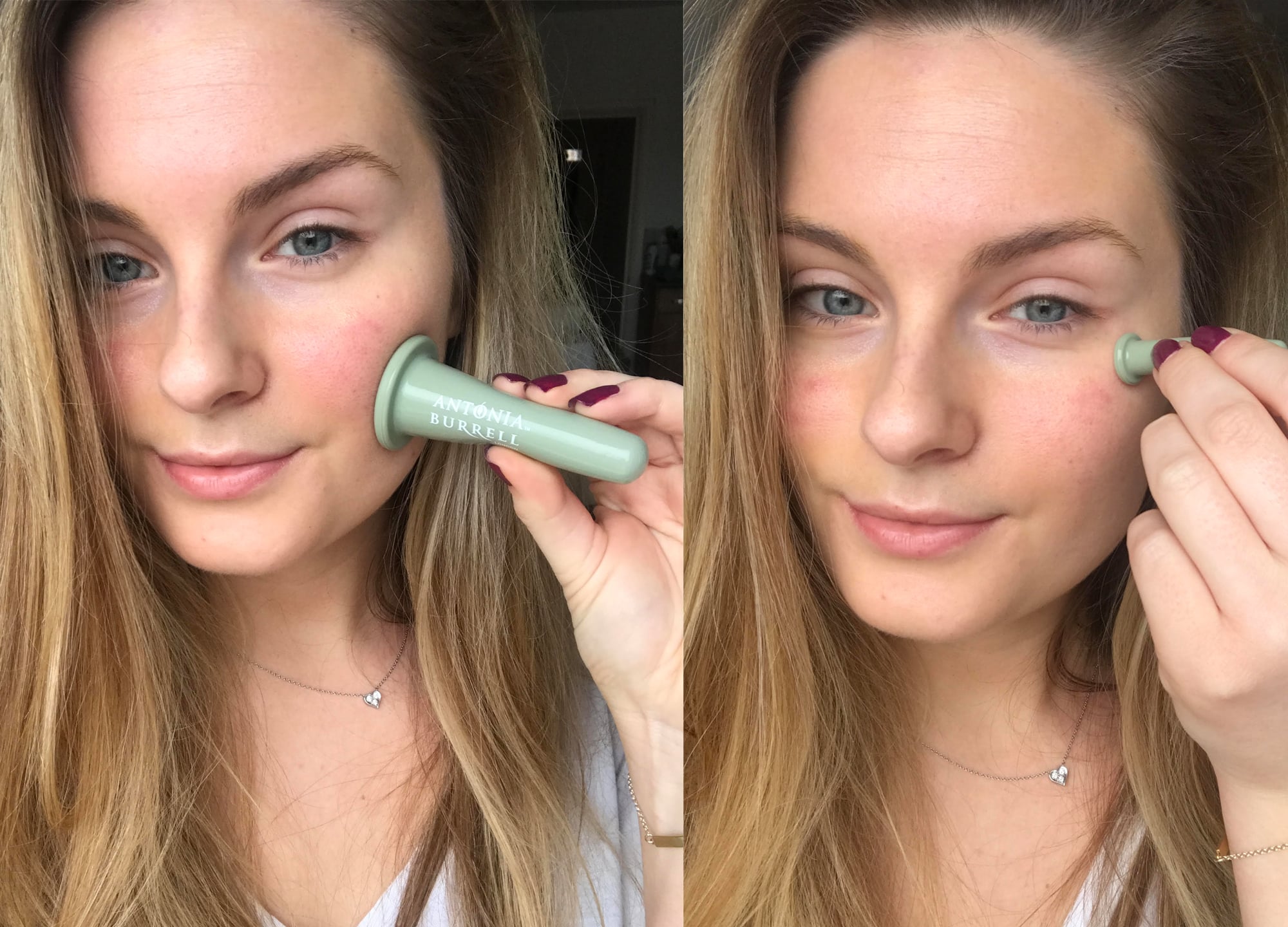 To use the facial cups, you absolutely must apply a facial oil first to help lubricate the skin so the cups can move easily — you don't want to be pulling at the skin! Antonia explains the process using a "squeeze, place, and smooth/lift". You begin by smoothing out the forehead, then move onto the cheeks and neck by sculpting using upward motions. The smaller cups are used for above the eyebrow and underneath the eyes. I watched along with the YouTube video to make sure I was doing it correctly.
I was so impressed with my glowing skin from the products and the cupping, and I really enjoyed doing it. I did feel like my skin was lifted afterward, similar to how my skin feels after a professional facial (but this is a fraction of the cost). I will definitely be incorporating cupping into my skincare routine. The box also makes a great gift for that beauty junkie in your life!
Image Source: POPSUGAR Photography / Tori Crowther