Fake Tan Myths
Streaks Aren't Inevitable, and 7 Other Fake-Tan Myths Debunked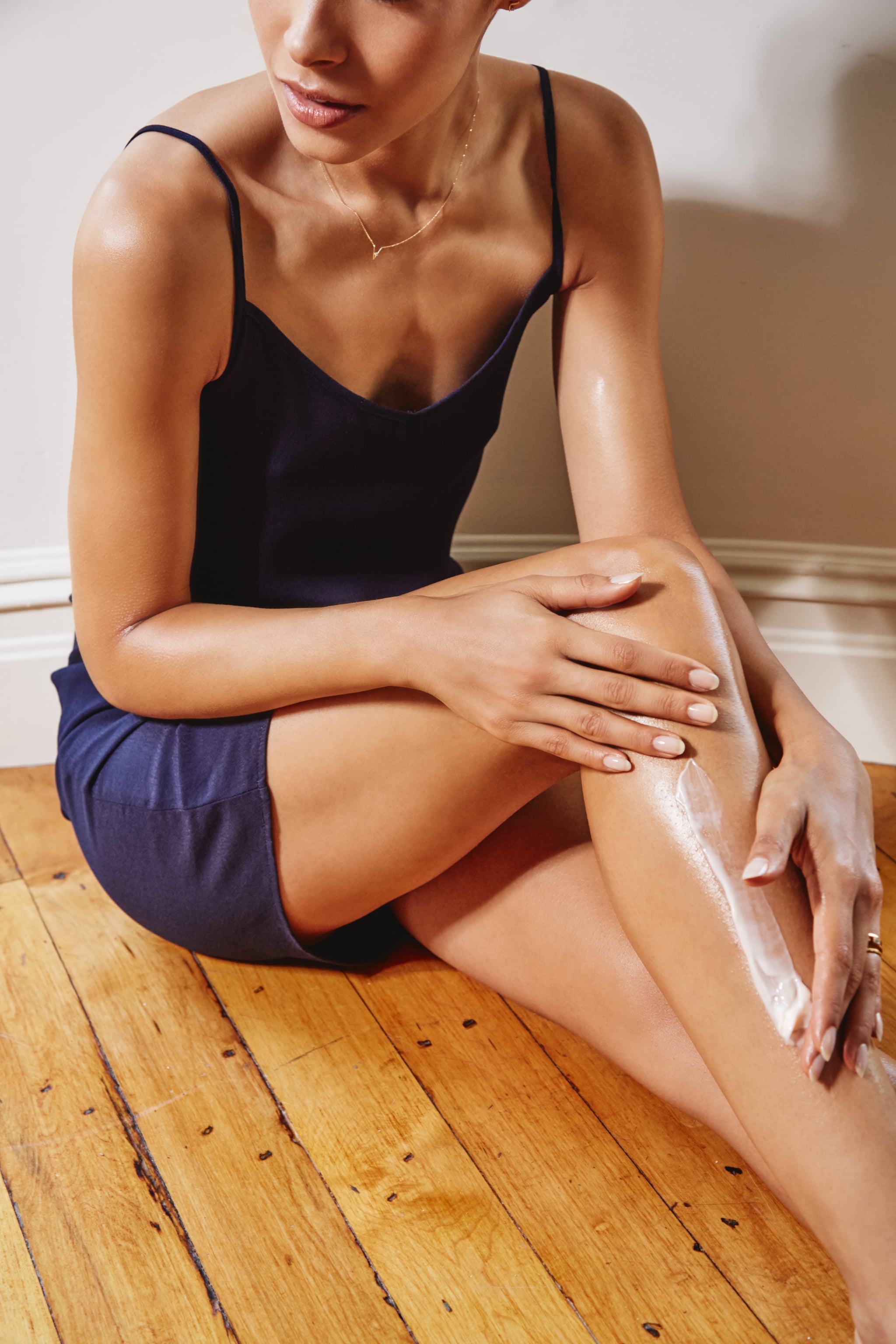 Fake tan is either the best or scariest beauty product on your shelf. That's largely because of all those fake-tan myths that make the beauty ritual sound so scary! In reality, tan can be dark without being orange, and not all tans will stain your sheets. We called on Fake Bake's Global Consultant Sandra Vaughn and Global Creative Consultant James Harknett to set those myths straight. Read on to get eight myths debunked that might finally convince you that golden can suit you, too!
Fake Tan Can Last 2 Weeks

A tan that lasts for two weeks? Though some products make this claim, it's not really possible, at least not without noticeable fading. "Human skin naturally sloughs off," explains Sandra, and tan reacts with the oldest cells at the top of the skin, the ones ready to shed at any moment. James Harknett agrees and explains, "a good false tanner will last on your skin five to seven days, providing you look after it. My top tips are to keep out of excessively hot water, especially baths, and pat the skin dry after showering. Also, moisturise every day with an emollient-free product to lock in the colour."

All Fake Tans Stain Bed Sheets

It's not the actual tan that's staining your bedclothes, it's the temporary guide colour that's put into many self tanners to aid with application. If you want a stain-free tan, choose a self tanner without a guide colour. If you're a beginner and need a colour guide to avoid streaky application, get yourself down to Primark to buy black loungewear.

All Fake Tan Turns Orange

The quality of fake tan has come a long way over the past few years. They range in shades and formulas and can be applied in various ways to ensure you find the correct product for your skin type. If you're a beginner, it is better to start using light- to medium-coloured gradual tans, rather than opting for a dark mousse straight away. If you're scared about face tanning, I've found the perfect product to give you a subtle, natural-looking glow. The general rule for choosing the correct shade is going two to three shades darker than your natural skin tone.

You Can Tan Yourself Slim

While a tan will never make you skinnier, I do believe that if you like the look of a faux tan, it can make you feel better about yourself and more confident. An airbrushed tan can contour the body to give the illusion of a slimmer physique. James says, "the secret of a defined flatter tummy is contouring on a second coat of tan. The contoured effect is achieved by sweeping your product from the side of the stomach to the centre of the tummy using a foam tanning mitt. It's almost like you are sweeping yourself thinner. This works on the legs and décolleté too."

Streaks Are Inevitable

Possibly the most dreaded outcome of tanning is streaks! However, streaks are easily avoided, if tan is applied correctly that is. We've got the top tips to applying tan correctly to get you started. James lets us in on how to avoid streaks every time by "applying your tan to smooth, moisture-free limbs." He goes on to advise that we "moisturise sparingly on dry areas such as ankles, knees, and elbows. Moisturiser can block tan from activating evenly across the skin's surface." Creating a smooth base is also key. "Always exfoliate before self tanning as this will remove dead cells, and ensure you shave no less than 24 hours before application, to give all pores the chance to close over, which will avoid guide colour seeping into them. Finally, use a product with a guide colour that allows you to see where you are tanning."

Tantouring Will Always Give You a Defined Figure

If you're at all into tanning, the likelihood is you've heard of the term "tantouring". The idea of tantouring is to create a more defined physique by creating shadows with tan. Whilst this is something that you might want to try on your face to avoid having to contour everyday, it isn't the easiest nor the most perfect way to create a contoured body. Like stated previously, whilst tan is a great confidence booster, it can't and shouldn't completely change the way you look. James explains that it has been around for a decade, and he's been "layering spray tans for over 10 years to create a 3D look for my clients. Each time I have a different body in front of me, I work with their individual physique to enhance and shade it." One size doesn't fit all, and while contouring with tan works for some, it isn't the perfect solution for others.

Fake Tan Is Just For Women

Although fake tan is most popular among women, it doesn't mean men can't enjoy a faux golden glow too. Research carried out by Fake Bake on over 1,200 men found that more men are using fake tan as part of their routines than ever before. Fifty-three percent admit to secretly tanning and 69 percent of men aged 23 to 44 admit to using their partner's beauty products. James tans around 50 males per month and has seen this figure rise by 10 percent each year. "More and more, men are asking to be defined and contoured. No matter what the body shape, darker and shaded skin boosts body confidence."

Tan Completely Washes Off in the Shower

If you use a mousse or spray tan, you'll be instructed to wash it off after around eight hours. If you're new to tanning, you may get a moment of horror when your shower floor turns brown and orange. This isn't your tan washing off, but rather the colour guide washing off. The colour guide makes your tan appear darker than it is and when washed off leaves the perfect golden glow underneath. Be sure to pat your tan dry after showering so you don't rub the excess tan off!