Fake Tan That Won't Stain Sheets
We've Finally Found a Fake Tan That Truly Won't Stain Your Sheets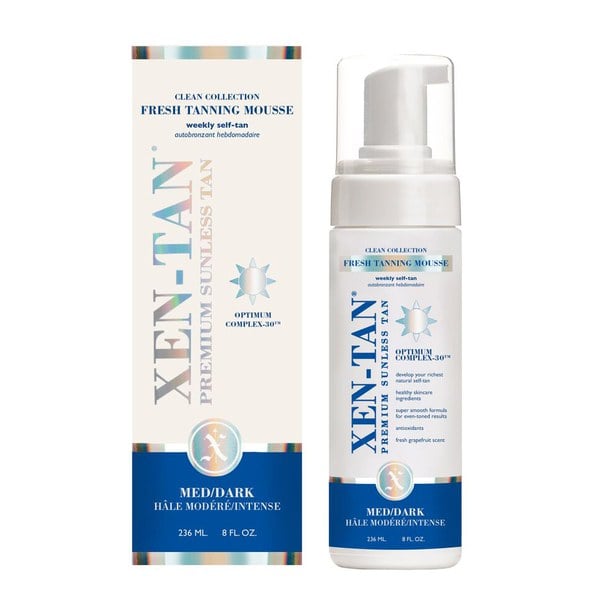 I love the golden glow of a good spray tan or at-home fake tan application, but what I can't deal with is the potential stains all over my clothes and bed linen. Luckily, Xen-Tan has come to the rescue with a product that genuinely does not leave stains on sheets, clothes, or towels. Fresh Tanning Mousse (£34) is part of the brand's "clean collection", and is designed to leave no marks but develop into a natural-looking tan.
Xen-Tan suggests one application of the medium/dark for a medium tan, and two for a deeper glow. I found one application was more than enough for my fair skin: in fact it took me a lot darker than any other foam tanners I've used. Don't let the white packaging and "clean" concept fool you, this is going to give you a deep, tropical holiday tan, it's not a gradual tan!
The downside of the "no marks" promise is that there's no guide colour to help with application. If you're new to tanning, tread carefully. The grapefruit-scented mousse is creamy white, and you'll need to pay close attention when applying it. It does emulsify slightly, so as you're smoothing it on with a mitt, you'll see your skin gets shinier (temporarily) helping to guide you towards any areas you've missed. On my first use I did miss a few spots around my ankles and knees, but the joy of having no guide colour is that I could quickly top this up the following morning and head out the door without worrying about staining my clothes.
As for my sheets? They are indeed completely free of tan stains! I applied the tan about 15 minutes before bed, and woke up with a fully-developed tan on myself, not my bed. The matching face tan (£21) also left my pillows spotless. There was a whiff of the telltale fake tan scent as it developed overnight, but it disappeared after a quick shower and didn't linger too much on my sheets either. No matter how much self tan brands say they've cracked the scent issue, I always find a bit of that biscuity aroma remains, but this is probably one of the better products in terms of that.
The tanner also contains peptides, green tea, ginkgo biloba, aloe vera, and vitamins D and E to help with the condition of the skin. Combined with a pre-tan scrub and daily moisturising, this helps to prolong the tan and keep skin as moisturised as possible for even fading. The tan faded very evenly on me, and lasted a good 5 days or so before I needed a scrub and a top-up. Overall, I was really impressed and as well as using it at home, I will be packing this for any trip when I want a gold glow without leaving a shroud of dirty brown on the hotel's crisp white sheets!
Image Source: POPSUGAR Photography / Sheila Gim