Fearne Cotton Beauty Products
Exclusive! Fearne Cotton Dishes On Her Must Have Products
Yesterday, FabSugarUK told you all about her face to face exclusive interview with Fearne Cotton at a party for her amended clothing collection with Very, and today I've got the lowdown on the beauty goods that Fearne loves most! When asked about the one product she can't live without, Fearne smiled and excitedly gushed about her Paw Paw Ointment (£9.29), an eight hour cream by Australian company Pure Nutraceuticals that she deemed "amazing!"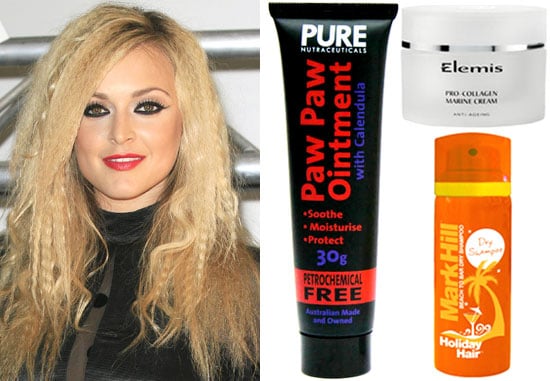 Also, she's a huge fan of all things Elemis, with a special affinity towards their incredibly moisturising Elemis Pro-Collagen Marine Cream (£75). Lastly, if you're wondering what keeps her famous blonde mane so beautiful, Fearne swears by Mark Hill Hair products and she particularly loves the Mark Hill Holiday Hair Beach to Bar Dry Shampoo (£3.42). Nice Fearne, it's great to see that will all of that fame and fortune, she still shops the High Street.
For more images of her cool crimped hair and wicked winged eyeliner, and to see Miss Cotton's must have's up close, just read more.