Fergie's Wedding
Fergie Was A Too Faced Bride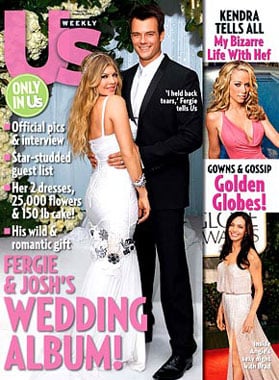 How exciting, we've just gotten a glimpse of the very first photographs from Fergie and Josh Duhamel's wedding! The best part of all is that the folks over at Too Faced Cosmetics have confirmed that the bride's wedding day makeup for her and her bridesmaids came straight from them by request.
In the weeks building up to the big day, we've seen Fergie exercising and taking special care of her skin. Boy did it pay off, because her body was tight, toned and her face was absolutely luminous.
Fergie had six bridesmaids and they all wore colours from the Too Faced World Domination Tour Kit (amazing).
To find out the exact beauty products that Fergie wore on her big day, read more.
Too Faced Bronzed & Beautiful Kit Chocolate Soleil Bronzer (£21) is a deep, matte powder bronzer that contains real cocoa powder. It has a gorgeous velvety finish and will be launching this February.
Too Faced Smoky Eye Kit Shadow Insurance Policy Kit (£11) helps prevent your eye shadow from creasing or feathering. It's silicone-based so it goes on smooth and it also works to even out the tone of your eye lids.
Too Faced Smoky Eye Palette (£20) is just amazing. This little box of fun contains nine powder eye shadows and mini brushes in the tres chic tray below!
Too Faced Lip Injection (£12) is a lip plumper that contains Vitamin E and maxi-lip to provide 20% more fullness to your pout.
Too Faced Starry Eyed Liner (£11.50) is a liquid eyeliner that contains serious amounts of micro-glitter sparkles! Fergie wore two colours; Gold Digger and Silver Lining.
Too Faced Lash Injection Mascara (£12.50) is a dark, 3D-constructed mascara that curls, lengthens and adds volume. It's formulated to build tiny tubes around your eyelashes which makes them appear longer and clump-free.
Too Faced Lash Injection Pinpoint Mascara in Hot Chocolate (£12.50) is a brown waterproof mascara (great call for wedding day tears) designed to create a dramatic effect. It defines and separates lashes while preventing smearing and flaking.
Too Faced Magic Wand Foundation (£20) comes with a fabulous little brush on the end to help achieve an optimal, smooth effect. I hear that Paris Hilton is also a fan of this soft, blendable foundation too. It contains cucumber extract, Vitamin E, cactus flower and calendula to help nourish your skin while providing medium coverage.
Too Faced Lip of Luxury (£12) is a collection of luxe, high-shine lipsticks (they're infused with champagne and shea butter) that go on smooth, and also help reduce the look of fine lines. Fergie wore her own special blend of Totally Nude, Cougar, Drop Dead Red and Centerfold — wowser!