Fine Fragrances To Become Organic. Green Issues in Beauty
Fragrance Houses Go Softly Softly Down Organic Path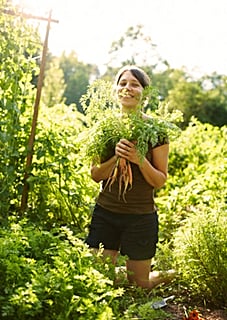 One of the biggest trends in the beauty world in the last five years has been the increase in awareness about using natural and organic ingredients. More than ever before we are wanting to use products that are environmentally sustainable and initiatives such as Brad Pitt and Kiehl's eco project have paved the way for beauty brands to get serious about the environment. However the fragrance world seems to be lagging behind when it comes to using organic ingredients.
Despite the increasing demand for beauty products with natural and organic ingredients, fragrance suppliers continue to be reluctant to use high concentrations of organic ingredients in fine fragrances. Apparently industry insiders say that fine fragrances are far more challenging to make organic, compared with other products such as skin care and cosmetics. Now, according to WWD, perfume suppliers have embarked on a 'softly softly' systematic approach of taking on the logistical issues of sourcing and creating organic scents.
"We have been challenged to come up with all natural absolutes, (but) organic solvents are not as commercially available," said Michel Mane, president of fragrance supplier Mane Americas. "Synthetic solvents, which are used in the essential oil extraction process, are more efficient." he added. As a result of this going fully organic could significantly limit the diversity and availability of ingredients for perfumers. Michel told WWD that if perfumers' end-use palettes were limited to organic essential oils, there would only be approximately 50 ingredients available. When synthetic ingredients are added, the number increases to more than 1,000.
For why it's so tricky to use organic ingredients in fragrances, just read more.
Perfume suppliers have noted that there are major challenges to creating an organic fragrance. These include the length of time required to certify a crop as organic as well as extracting essential oil with an organic solvent. There is also the issue of the cost of production and certification of these ingredients.
"It gets very complicated because there are only certain materials that can be used for organic fragrances and it has to come from those sources that have been proven and certified," said Steph Senior, Givaudan's head of research and technology for fragrances.
However, it seems that organic is what we actually crave from our products. Several perfume oil houses, including Givaudan and Symrise, have also apparently been getting more requests from clients to create water-based, non-alcoholic fragrances. The problem is though that these water-based scents have a low fragrance level and don't have the same long-lasting staying power as alcohol-based perfumes. According to David O'Halloran, Givaudan's director of applications and technology in fine fragrance, the company is working on a program to improve the impact of the scent with its water-based system.
It's reassuring to know that the big fragrance houses are listening to their customers and I look forward to seeing the launch of a 100% organic scent from one of the key brands. I'm not sure if I'd be willing to sacrifice the quality and lasting power of my perfume though. How about you, would you be willing to use an organic fragrance even if it wasn't as long-lasting?