Five Simple Steps for a Long Lasting Manicure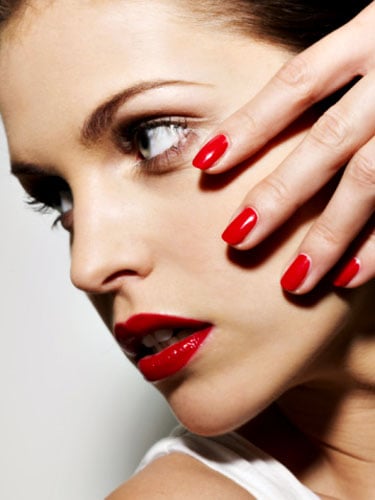 Not only are manicures time consuming, but they're also quite expensive, especially when you throw all of the new and amazing nail art on the market into the mix. There's nothing more frustrating then getting a manicure, only to have it chip or peel just a day or two after leaving the salon. Follow these five easy steps to make your mani last as long as possible!
Don't soak your nails. I know it seems like you're breaking the rules here, but in actuality, there are no benefits to soaking your hands in warm soapy water pre-manicure. All they will do is absorb water, which can cause chipping and peeling once the water dries out.
Use a base coat, not a top coat/base coat combo. A topcoat is formulated to dry the nails and add shine, but a base coat is designed to be tacky on both sides to give the varnish and the nail something to grip onto.
Be patient. It's important to wait the 30 minutes that it takes for polish to fully dry. During this time, try and relax instead of typing on your phone or paging though a magazine which can chip or smudge the nail. Try bringing your ipod and unwinding to soft music.
Clean your nail surface. Even the slightest traces of oil, soap, dust, or cream will deter polish from sticking to the nail bed causing premature chipping or peeling. Try swiping polish remover over your nails getting in every corner and crack to dry out the nail. Then, immediately apply a base coat followed by your colour of choice.
Be sure to apply polish in thin coats. Thick or old nail varnish can bubble and peel almost immediately and should either be thinned out or discarded.