Formal Hairstyles, Mel B Hair, Tori Spelling Hair, Side Updo, Updo Hairstyles
How To Get A Side Swooping Updo
Both Melanie Brown and Tori Spelling attended last night's NBC Universal's Press Tour Cocktail Party in Los Angeles donning attention grabbing hair. This off-to-the-side style is a different take on the traditional updo and looks wonderful on women who have trouble looking their best with all of their hair swept back. It has body, style, sophistication and it's practical when you don't want to be bothered having to play with your hair all evening. We've also seen similar looks on Natalie Portman, Lauren Conrad and a slew of other stars — especially during awards season as this is a such an elegant way to walk down the red carpet.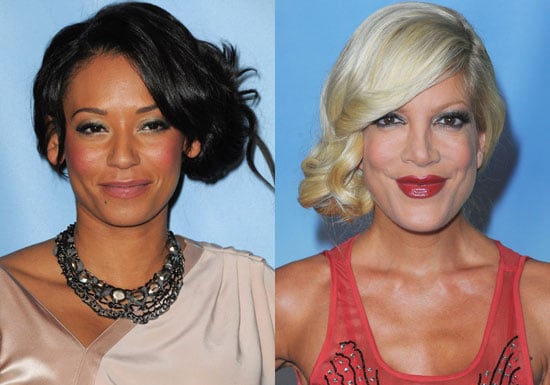 STEP 1: Begin by prepping clean, wet hair with a volumising spray in addition to a heat styling spray to give hair texture and protection. Tip: for hair that is thin, it's also a great idea to add a palm of volumising mousse from roots to ends and distribute evenly.
For the rest of the directions to create this side-swooping updo at home, read more.
STEP 2: Blow dry hair straight using a round brush, (hair doesn't need to be pin straight, just smooth) and then spray all over with a generous mist of hairspray. Once you're finished, use a 1/2 inch curling iron starting from your mid-lengths and curl hair in medium sections.
STEP 3: Pull all of your hair (gently) into a side ponytail, twisting it ever so slightly into a loose knot (bun, or chignon) and secure with plenty of bobby pins. Then, you'll need to carefully smooth your crown out with a natural, boar bristle brush and pat it softly so that it blends into the style. If you pull too hard with the brush, it's easy to fix by securing the hair with an extra hairpin.
STEP 4: Lastly, mist your hairspray all over again to smooth out and hold the style in place. This is also the time to add a fun hair accessory to your look like Cheryl Cole!