Frankie Bridge Beauty Interview
Frankie Bridge Talks Haircuts, Hoarding Lip Balm, and Her 1 Bad Beauty Habit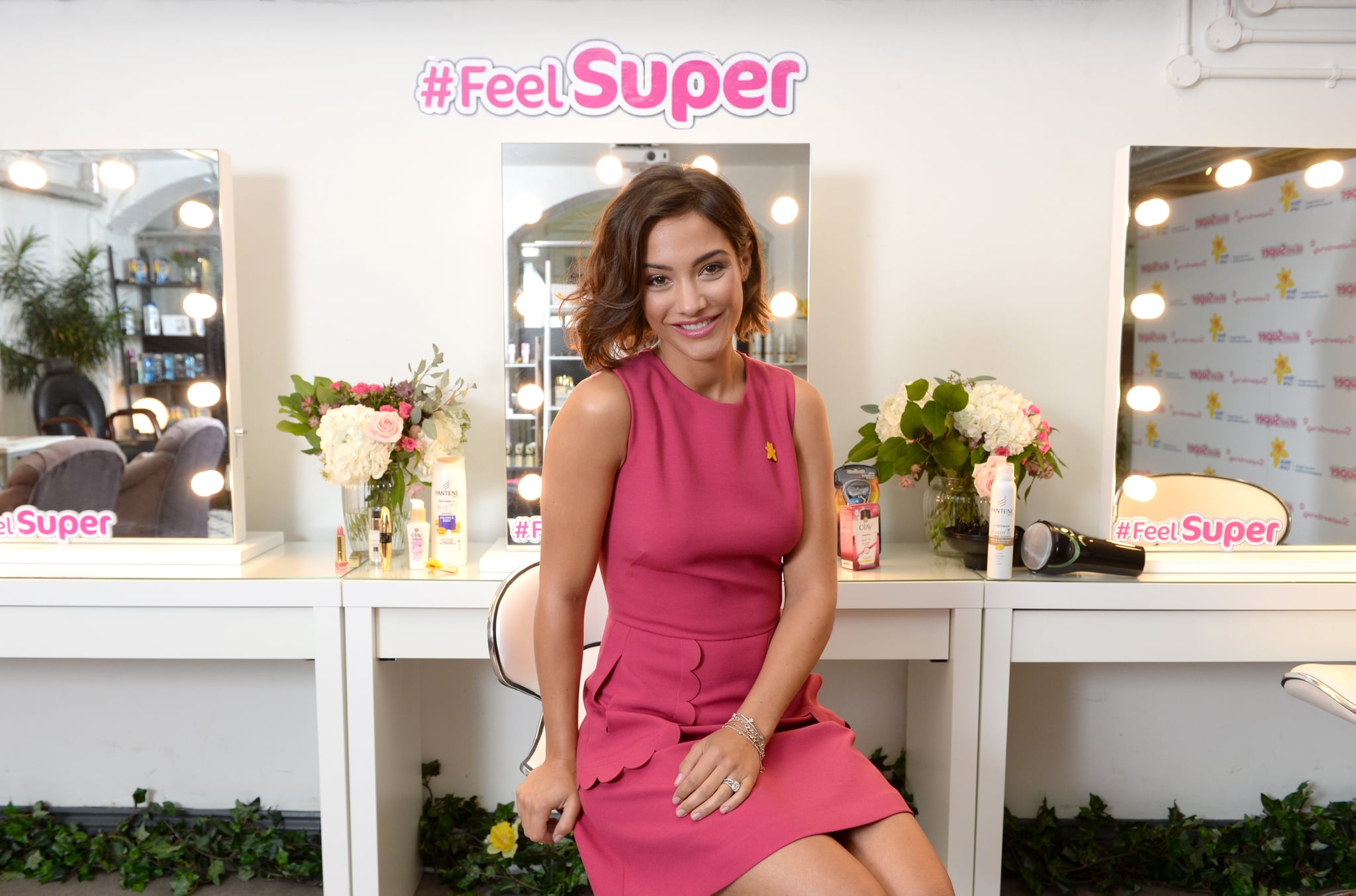 Having spent years in the spotlight, The Saturdays singer and supermum Frankie Bridge knows a thing or two about beauty, and now she's putting that know-how to good use in the support of a great cause, as she puts her support behind the #FeelSuper campaign. Until 18 Oct., if you buy selected products from brands like Olay, Gillette, and Oral-B at Superdrug, you will trigger a donation to Marie Curie, the UK's leading charity caring for people living with any terminal illness and their families. Last year, the #FeelSuper campaign raised over £200,000 for Marie Curie, helping to fund more than 10,000 hours of vital care and support. This year, the campaign aims to match those numbers for a second time. During the launch, Frankie, a long-term supporter of Marie Curie, pampered some very hard-working nurses, showed off some of her must haves, and chatted to us about hair, makeup, and feeling fabulous.
POPSUGAR: What are your daily must-have beauty products?
Frankie Bridge: Olay does a great two-in-one hydrating tinted moisturiser (£10). Everyone wants to look glowy, and being a mum I haven't always had enough sleep, and I'm not glowing, so it's a nice little cheat!
Also Max Factor does a really good mascara (False Lash Epic, £12), I always have to have something on my eyelashes, and it's got a little round ball at the end of it to help do the bottom lashes. I literally cover myself in mascara, I have to get cotton buds out and clean it all, so that's a good one!
PS: Do you have any top makeup tips to share?
FB: I've been having my makeup done for years, and I always try and copy what they do, and buy all the same products, and obviously it's never the same!
I think at the moment less is more, everyone's going for that natural look. I think the most obvious one that most people have learnt is that you either do an eye or a lip, and never both. Although Vanessa [White, her bandmate] was always one of those strange people who could pull it off! She could do both, and I was really jealous.
I think eyebrows are a big thing too, don't forget to draw your eyebrows in, or look after them. I never used to take any notice of my eyebrows but I think it makes a big difference.
PS: I think over the last four or five years we've all suddenly realised we have eyebrows.
FB: I know, that's what I said! I don't think I ever took any notice of them before, but I think they're a big thing, they really shape your face.
PS: Do you have any bad beauty habits you're willing to admit to?
FB: I can't leave spots alone! I just can't. I couldn't stand the thought of walking around with a whitehead on my face.
Other than that . . . I never clean my brushes. It's really bad.
PS: Who does?
FB: I know, but you are supposed to though! Every so often I look at them and think, "God, I should clean them," but I just don't! [laughs]
PS: That's still better than sleeping in your makeup . . .
FB: Yeah, and that is one thing that I never do. My mum was always so strict on me and my sister about it. And even now, at the end of the working day, the first thing I do when I get home is take my makeup off.
PS: What do you do if you've had a bad day, or a long day, and need to perk yourself up?
FB: I think having a beauty treatment does make a big difference. Just having someone else blow-dry your hair or something like that. Now I'm a mum I never get time to paint my nails, so finding five minutes to do that . . . I think it's just about finding time to give yourself a bit of attention. When you're busy, you're running around and you're tired, me and all my group of girl mates always say, "Oh, I feel gross today!," that's normally when you've not just given yourself five minutes to look after yourself. I think it does make a difference.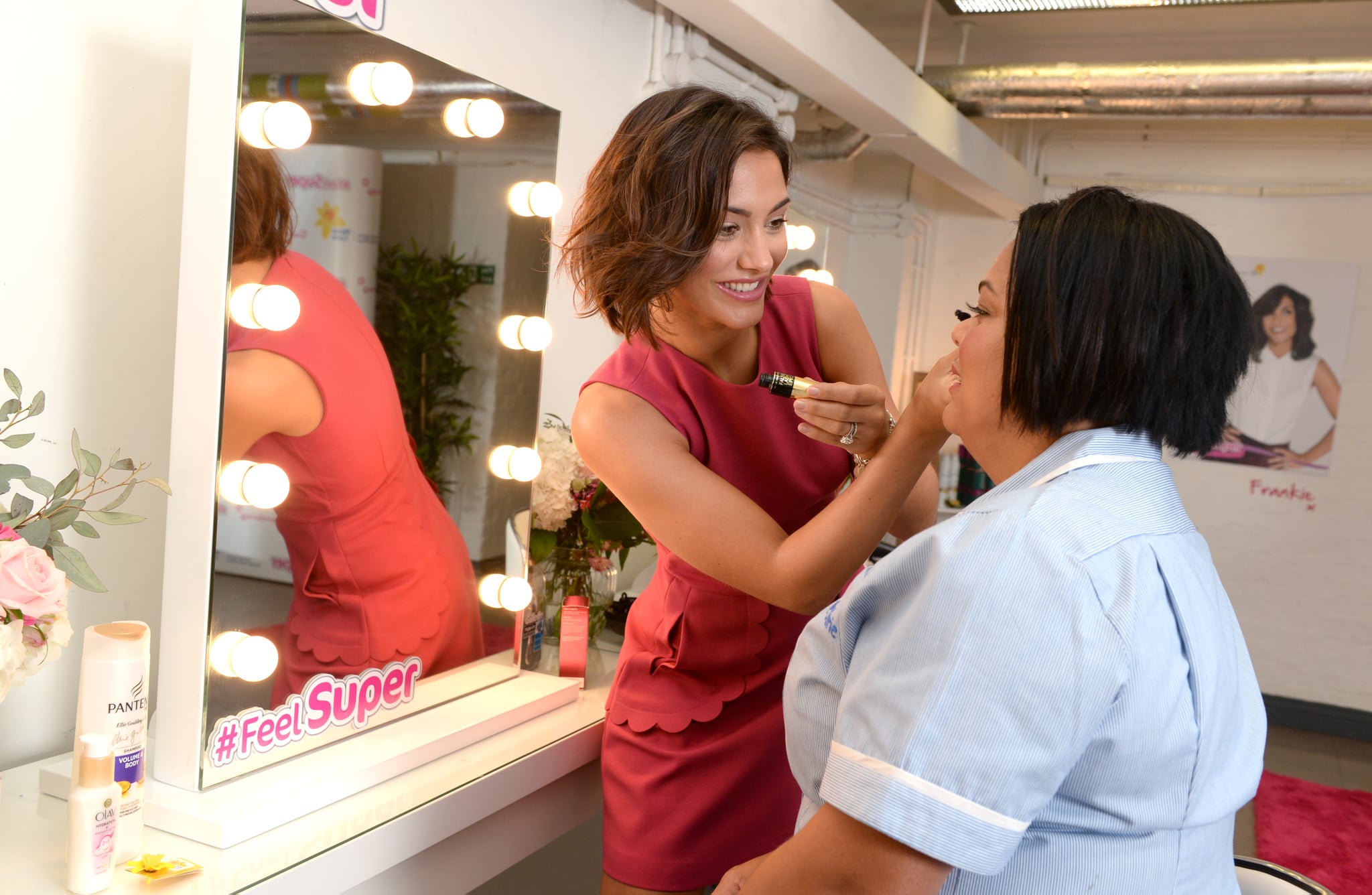 PS: You've recently taken your hair short again; how does it feel losing all that length?
FB: It felt weird at first, weirder than I thought, to be honest. Because I've always had short hair I was really blasé about it, like, "Yeah, I wanna be short again." I always get bored really easily! And actually, for the first week I was like, "I hate it." I've never hated my haircut before but I was genuinely not sure. Then people said, "Oh, you've cut your hair!" and I was really embarrassed, like, "No, don't talk about my hair!"
But I have got used to it. It's like when you get eyelash extensions you have to get used to them, then you take them off and it's like you've got no eyelashes!
I feel more like "me" when I have short hair, which is weird. And I find I have to think less about what I wear, because it almost becomes a bit of an accessory, whereas when I've got long hair I find it harder to find things that I like.
PS: What products do you use on your hair?
FB: Dry shampoo. I think everyone has dry shampoo now, and I've got really soft, fine hair so I don't condition my hair because then I can't do anything with it. I find putting a load of dry shampoo in it gives it that "something" instead of it going flat.
PS: And finally, what essentials do you always have in your handbag?
FB: Lip balm. Any lip balm. I've got a bit of an unhealthy obsession, I think. My sister is exactly the same, if we lose our lip balm it's like, "I NEED to go and get a lip balm!" I think I've just got into the habit of putting it on all the time!
For more information on the Feel Super campaign or to shop the products online, visit the Superdrug website here.