Freida Pinto and Estee Lauder
Beauty Byte: Freida Pinto To Sign With Estee Lauder?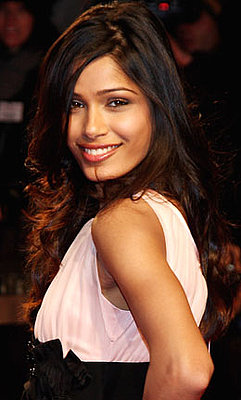 It's no surprise that twenty four year old Indian stunner, Freida Pinto is a hot commodity these days. She's already signed on to do Woody Allen's newest film, and now the beauty biz is buzzing with rumours about a possible deal between her and Estee Lauder.
Whilst her agent nor Estee Lauder will comment, apparently, the timing couldn't be better for Estée Lauder, who is seeking expansion in India.
According to Euromonitor, the beauty market is soaring in that neck of the globe. In fact, sales tracked in 2007 are up forty seven percent over 2002. MAC (owned by Lauder) opened a store in Mumbai in July 2005, and last June Estee Lauder also opened its own shop in a Mumbai mall.
Whatever the outcome of this supposed deal may be, I think it's safe to assume that we'll be seeing big things from this sexy Slumdog star soon!