Fresh Citron de Vigne Eau de Parfum
Fragrance Review: Fresh Citron de Vigne Eau de Parfum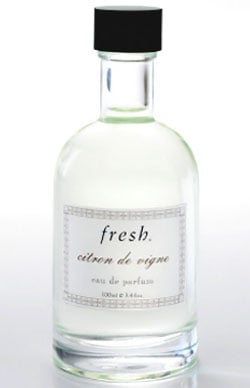 New from Fresh is a three-part, intoxicating, lemony and sweet collection called Citron de Vigne — and when I say intoxicating, I mean literally. The scent was inspired by Veuve Clicquot's Grande Dame Champagne. Alina Roytberg, co-founder of Fresh, was invited to Reims, France for a tour of the grounds. It was there where she fell in love with the aroma of the grapes, corks and vineyards.
Upon her return, she and partner Lev Glazman captured her memories in a bottle. Lev cleverly concocted a pinot noir accord as the heart of the eau de parfum and mixed it with notes of neroli, bitter orange, pink grapefruit, sandalwood, jasmine tea leaves, lemongrass, pachouli and amber. The result is a crisp, fresh and sparking unisex scent.
The Citron de Vigne scent is also available in candle and bar soap forms (perfect for housewarming or hostess gifts). Everything is available at Fresh stores or online and can of course be shipped overseas. For prices, pictures and details about the amazing candle and soap, read more.
Citron de Vigne Eau de Parfum (£47.50) for 100ml.
Citron de Vigne Candle (£32) is a lead-free candle encased in a glass votive and burns for up to 50 hours.
Citron de Vigne Oval Soap (£9.50) is a triple milled, shea butter enriched soap that comes hand-wrapped in kimono-inspired paper, accented with a semi-precious aventurine stone.