Fun Fashion and Beauty Inspired Royal Wedding Treats!
With the royal wedding just a few weeks away, the marketing world is going bananas and creating all kinds of crown- and princess-themed beauty and fashion accessories. I'm totally bombarded with anything and everything royal, but these are a few of my favourite pieces that I hope you'll like, too.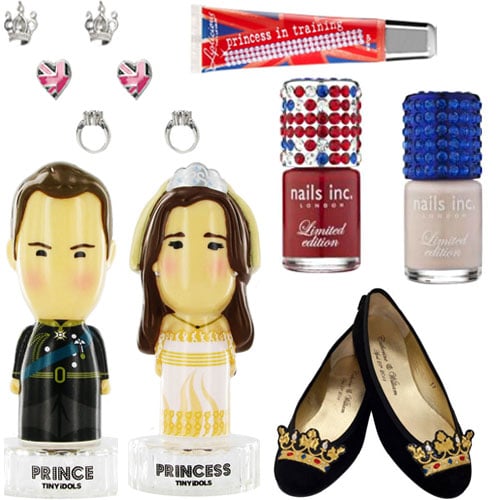 These one-of-a-kind Prince and Princess fragrances (£10 each) come in doll-shaped bottles created to look like Kate and Wills. Princess is a green, lemon, and white floral scent with clove and musk at the heart, whilst Prince is made from mandarin, citrus, ginger, rose, cedar, and nutmeg. Both are 28ml EDT's that will be available online this Friday!
How adorable are these new Kate Sapphire Crystal and Will Union Jack nail polishes from Nails Inc? The rhinestone bottles will win me over any day, and the colours are a perfect match for your nails and toes. Each shade sells for £13.50.
I am head over heels for these all-too-regal French Sole commemorative royal wedding ballet pumps (£98). They will be available for just one day (29 of April), but they can be preorded now on the website for £52. I love the black nubuck with the contrasting gold royal-crown embellishment!
For more info on the rest of the royal goodies, just read more.
This cute Princess in Training lip gloss from Bath and Body Works is available in the US and Canada, but it ships overseas if you call in your order from the website.
What a fun idea to create royal wedding-inspired studs (£3.99) to adorn your ears with three different styles. I heart the union flag ones best — how about you?