Gareth Pugh, Preen and Fashion Designers Launch Six Scent Perfumes. Designers Against Aids
Six Scents: Designers Launch Perfumes For Charity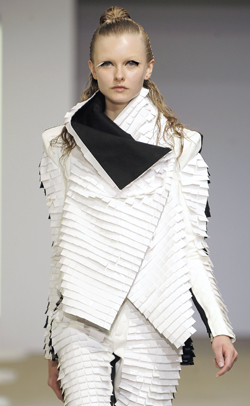 Six of the world's most up and coming fashion designers are to put their fame to good use this month. The new darlings of the fashion world are all set to launch a collaborative scent project which aims to raise awareness and funds for the charity Designers Against Aids. The project is called Six Scents and the first series will feature the fragrances of Gareth Pugh, Jeremy Scott, Alexandre Herchcovitch, Bernhard Wilhelm, Cosmic Wonder Light Source and Preen.
In order to ensure the scents remain a sense of exclusivity, they will be strictly limited edition. Only 2000 of each fragrance will be produced and a percentage of the price will go directly to the charity. Designers Against Aids focuses it's help on young people in industrialised countries.
Personally I can't wait to smell the perfumes. Gareth Pugh told Vogue.com that his scent was about opposites. "It's a struggle between lightness and darkness," the designer affirmed. His perfume includes notes of dill, nutmeg, black tea and white amber. Who'd have though good works could smell so sweet?