Gemma Arterton Talks Fashion and Beauty at Burberry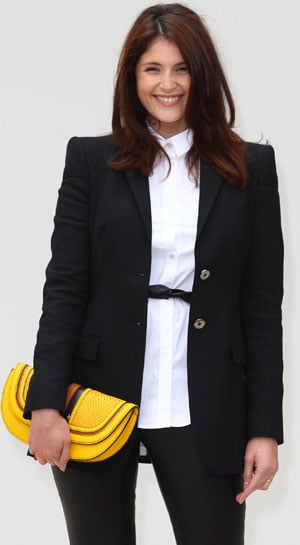 After the Burberry Prorsum show last week in London, I was able to catch a quick moment with the lovely Gemma Arterton, who you may know from movies such as The Quantum of Solace and Tamara Drew. She was super sweet (touching my shoulder to make sure I was all right when an aggressive video team tried to interrupt our interview), very poised, and also quite beautiful in person. Here's what Gemma had to say in our brief moments together:
On London Fashion Week: I'm not interested in designing or anything like that. I'll leave that to the pros. This is the only show that I came to during London Fashion Week to support one of my favourite brands.
On the Burberry Prorsum show: It's been a dream come true for me to come to this show. I loved everything, but if I had to choose, I'd say that my favourite piece was a blue pencil skirt. I also loved all of the woven bits, the peach belt, shoes, and bags so much.
On the one makeup product she can't live without: Ahh, my Dior Waterproof Eyeliner — it's absolutely amazing. I wear it all of the time!