Get Emma Watsons Harry Potter Premiere Makeup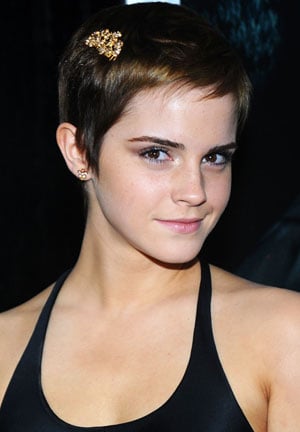 All of the amazing Harry Potter and the Deathly Hallows, Part I premiere madness has me dying to see the film. I've been watching the streaming live videos from the red carpets in London and New York City and am especially fond of Emma's hair, makeup and outfit from Monday evening.
Wearing a traffic-stopping body-con Calvin Klein black dress and a beautiful gold comb in her hair, Emma wowed everyone with her pixie cut and pretty makeup look.
To find out all about the "soft, 80's inspired look" that celebrity Makeup Artist Geoffrey Rodriguez created for the evening, just read more.
According to Rodriguez,
FACE: "First, I prepped the skin with Dior Hydra Life Serum. Then I followed with
DiorSkin Nude Foundation in #30 and Concealer in #20. Lastly, I applied Dior Skinflash Radiance Booster Pen in #002 on top of her cheekbones."
CHEEKS: To accentuate the softly-sculpted cheek which was achieved by applying DiorBronze Matte Bronzing in Powder #002 just slightly under the cheekbones from the hair line followed by a dusting of DiorBlush in Peechy Keen
EYES: "I wanted to keep the eyes subtle and warm so I used the Dior 5-Colour Palette in Five Golds to create a slightly elongated eye to complement her brows which I emphasized and elongated with Dior Brow Styler." Rodriguez also layered on Diorshow Blackout Mascara.
Lips: Finally, a touch of Dior Ultra-Gloss in Lace Beige #216 was applied all over Emma's lips!