Get Kim Kardashian's Perfect Topknot
How to Create The Perfect Topknot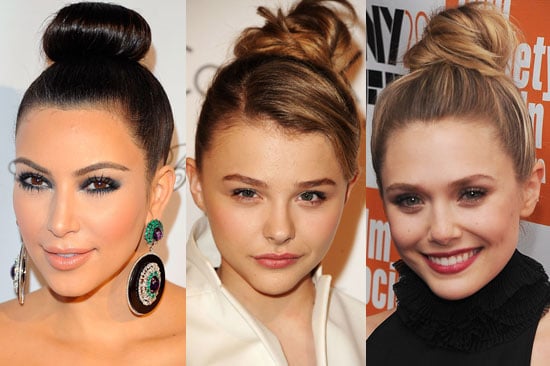 As you can see, buns high on the crown of the head, aka, topknots are all the rage right now on the red carpet. This easy to achieve hairstyle is the perfect way to troubleshoot a bad hair day or show off a gorgeous necklace, pair of earrings, or detailed shirt or dress. Kim Kardashian was spotted wearing her slicky version last night in New York City at the Angel Ball, Chloe Moretz wore her looser style to Elle Magazine's Women in Hollywood event, and Elizabeth Olsen wore one last week at the New York Film Festival. Follow these simple steps to create your own topknot at home, and shop the products you'll need below!
Step 1: Back comb the crown of your hair if you'd like a little bit of volume at the roots. If this is the style you're going for, then add some volumising spray or dry shampoo as well for texture. If you're going for the sleek look (like Kim's), add a bit of gel to the crown and brush your hair back, securing it into a high ponytail at the top of your head with an elastic the same colour as your hair.
Step 2: If your hair is thin or short, add in a ponytail extension and wrap the whole pony around the elastic, using bobby pins to secure the bun. Next, feel free to loosen the sides or pull down a few tendrils or wisps from the bun if you are opting for a more casual style (like Chloe's).
Step 3: As a finishing touch, spray your entire head with hairspray, and spray some onto an old toothbrush to tame any frizz or flyaway hairs.