Get Pixie Lott's Isle of Wight Festival Makeup Look
Get Pixie Lott's Isle of Wight Festival Makeup Look
Festival season officially kick-started, and everyone is getting into the Summer spirit. Over the weekend, the Isle of Wight Festival took place and not only was MAC Cosmetics there to play host to celebs and artists, but Kate Moss also joined in on the fun celebrating her hen night nearby! Terry Barber, director of makeup artistry, at MAC offered up some general beauty rules for looking cool in the heat.
"Your festival 'survival kit' should be tailor-made with all the iconic 'quick-fix' products you need to keep groomed, whatever the conditions! It's not about wearing full-on glamour – it should be much less try hard. Clean, dewy skin; '60s mod-girl lashes; a combed-up brow; and plump, stained lips. Light on the coverage and heavy on the cool!"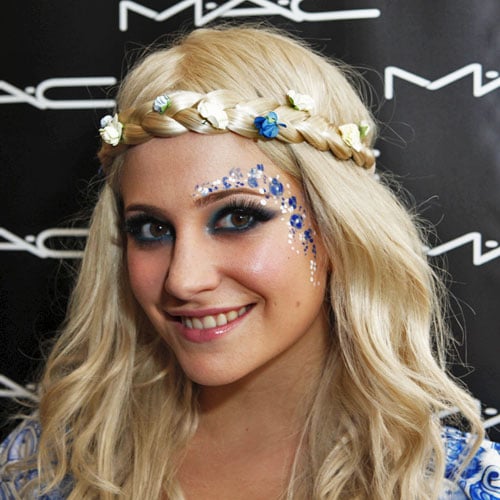 Here's what artist Dean Rudd used on Pixie: Pro Longwear Concealer in NC 15, Fortified Skin Enhancer and C3 Face and Body Foundation were applied to Pixie's face and highlighted with a bit of Strobe Cream. Next, Prep and Prime Pressed Powder was dusted all over and her rosy cheeks where enhanced with a blusher called Something Special. Pixie's eyes, however, were a bit more complicated. Marine Ultra Electric Eel (a blue shadow) was applied to the lids and a teal shadow was added to the crease. Her eyes were lined in Graphblack and Blacktrack liner, her brows were groomed with Clear Brow Set, and topped with #12 false lashes.
Clear Lip Glass was all that Pixie wore on her lips, and Marine Ultra and White Acrylic Paint were used to create the flower buds on the side of her face. Check out some of the products used on Pixie Lott below!