Givenchy Summer Makeup
Givenchy Summer 2009: Le Makeup Collection
New from Givenchy is it's Summer 2009 Le Makeup Collection inspired from a post-rainstorm on a paradise island when the golden light makes your skin glisten. The collection contains eleven items, with the star being the Glow To Wear Satiny Body Enhancer (£21.13), which basically is a liquid gel bronzer with a copper tinge that creates a shimmery tanned glow. It's scented with the new Givenchy fragrance too (Radiant Blossom) which contains notes of orange, bergamot, peony, iris, jasmine, rose, vanilla and musk. Yep, you guessed it, this product, in fact the entire collection is a keeper. It's elegant, decadent and pampering.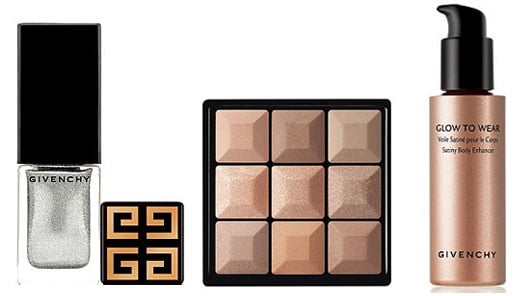 My personal favourite product is the nudey-pink lip gloss in Sun Rose. It's the perfect daytime colour with a little bit of bronzer, blush and brown shadow. For individual product shots and for pricing information and a description of each of the products, just read more.
Glow To Wear Satiny Body Enhancer: (£21.13) is a scented liquid body bronzer.
Prismissime Mat & Glow: (£27.73) is a nine-colour face powder that contains matte and shimmery textures. Also, the packaging has been enhanced with a giant gold logo intended to create the effect of the sun.
Prisme Again! Blush Glow Powder Blush Quartet: (£22.46) is a limited edition powder blusher palette created to look like warm sand. The new pearly, texture also adds a glowy element to the cheeks.
Prisme Again! Visage Compact Powder Quartet: (£24.66) are limited edition powders that contain four different colours of pinks, browns and golds and they are available in two shades: Sun Mango (for lighter complexions) and Sun Cinnamon (for darker skin). They are scented and can be used as an all-in-one blusher and bronzer.
Mister Bright Sun Touch of Light Pen: (£16.73) is a light enhancing pen that helps you contour and brighten your face and decolletage.
Vernis Please! Nail Lacquer: (£10.57 each) comes in two new limied-edition shades: siler and gold. Both contain aluminium in them for extra shimmer.
Pop Gloss Crystal Lip Gloss: (£14.10 each) also comes in two new shades: Sun Rose (a coraly-pink with white shimmer) and Sun Coral (a warm orange with flecks of white and red sparkles).
Prisme Again! Eyes Eyeshadow Quartet: (£26.43) is a limited edition powder eye shadow quad that contains shades of blue, gold, silver and pewter. The shadows can be worn alone, blended together and worn wet or dry.