Go Smile Teeth Whitening Kit Tested
Product Review: Go Smile Teeth Whitening
Teeth whitening has always seemed like a very Hollywood concept to me, but after the awards season this year, with all its bright polished smiles, I've been thinking about it a lot more! Funnily enough, at the same time Harrods has introduced hot new U.S. teeth whitening import Go Smile to its beauty department. The range has a cult following in America already so there's been lots of speculation about it debuting in the U.K. this month. I decided to try out the brand's Go Discover Set (£55) to see what all the fuss was about.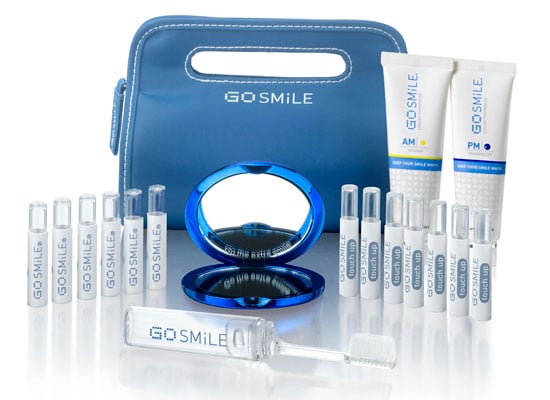 To find out how I got on, just read more.
The core product in the Go Smile range is its 'ampoules', or cylinders, that contain patented clear whitening serum made from Alcohol, PVP, Hydrogen Peroxide, which are rubbed in to teeth using an applicator. In the Go Discover set there is a three day supply of these which I apply every morning and night, after using the Go Smile special toothpaste. After that, I use seven days worth of top up ampoules that are intended to maintain the whitened finish. (The set includes a pocket mirror, handy travel case, and two varieties of toothpaste.)
After working my way through it all, I have definitely noticed a difference. The cylinders are tricky to figure out at first but you soon get used to it. They are capped by a sponge, which lets the serum through for you to gently rub in to teeth.
I'm not sure that Go Smile's treatment is necessarily as intensive as a thorough session a dental hygienist, or having professional whitening, so for people with heavy teeth stains it may not be useful. It definitely makes a difference though, and would be a great way to freshen up teeth on a regular basis. My teeth are whiter and look much brighter than before.
Photo courtesy of Harrods