Hair, Makeup and Nails at the 2011 House of Holland Show
Fresh, Pliable, Modern Hair at House of Holland
Being backstage at the House of Holland show yesterday was one of the most organized experiences in my entire Fashion Week career. There was a huge area so noone felt cramped or trampled and the dressing room, hair and makeup all had their own seating areas. The inspiration for the show (which was adorable because it was reflected on the invitations) was the old style Bingo game prints. This means lots of colours and lots of fun. So not to distract everyone away from the clothing, hair and makeup were kept in check.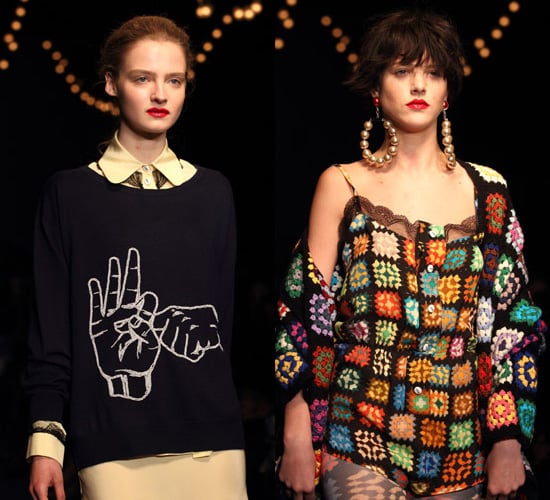 Hair: The adorable Adam Reed was the lead stylist working with Babyliss products backstage. The inspiration for the look was "fresh, modern texture, pliability and movement." To get this look, hair was pulled back into a ponytail and then the Babyliss Pro Wand was used as the key styling tool. About six to eight sections of hair were wound around the wand and then whipped out in kind of a "phallic in and out movement." The curls were then shaken and Oribe Texturizing Spray was used on the ends to seal hair on the outside. The result was bouncy, shiny and soft waves.

To find out all about what MAC makeup colours were used and for details on the three different nail looks, just read more.

Makeup: MAC was in charge of the makeup backstage and they chose a neutral face with a strong lip. Ladyblush Cream Blusher was used on the cheeks and highlighted with a bit of Strobe Cream for sheen. Select Moisture Cover was used on the brows and Sandbrown and Malaysia Sculpting Creams were used on the eyes. Lips were a bit more complex. They were lined in a Cherry Lip Pencil and filled in with Ruby Woo Lipstick blended with Crimson and Fuchsia Lip Mix and Clear Lip Gloss on top.
Nails: Sophy Robson headed up the nail department backstage creating three different takes on the "new french manicure." Without any colour as a base, the tips were either bright orange, patent navy or tiger print. All products were by Leighton Denny. Sophy also told me how much she loved reading all of the Sugar sites — we love you too Sophy!