Hair, Makeup and Nails at Peter Pilato A/W 2011
Confident Women With Lime Eyes Line The Runways at Peter Pilotto
FabSugarUK and I were back at the same event space where Topshop Show was held, only this time it was bright and early in the morning. However, you wouldn't have guessed the call time from all of the buzz and energy going on backstage. Shon from John Freida was working a movable, wavy combover, whilst Leighton Denny created a White Russian nail on all of the models. Makeup was created by lead artist Lisa Houghton for Chantecaille using a chalky, but vibrant lime green shadow called Lemongrass on the eyes. The inspiration for the makeup was a "confident woman with a strong sense of personality and femininity."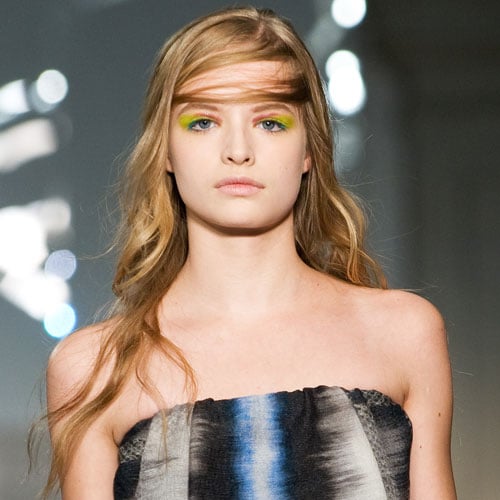 The green shadow was crushed and then swept all over the lid up to the crease where a touch of burgundy was mixed with gloss and applied just above the green colour. Then, an electric blue liner was added to the outside corners of the eyes, and a white liner applied on the inner corners. Mascara was used on the bottom lashes and a bit of lip shimmer was used only on the cupid's bow of the lip for some shimmer. For more on how you can get the hairstyle using John Frieda products, how to re-create Leighton Denny's white nail masterpiece at home and more pictures from the show, read more.
Hair: Since the clothing was quite strong, the hair was intended to have to have tonnes of movement. John Freida Thickening Blowdry Lotion was applied to the hair and then blown .dry. But to really get that slept on effect, good old fashioned Frizz-Ease was also applied once hair was dried. Next, two small sections of hair were pulled back and backcombed to look like they had been secured with an elastic, but none was there. The front was combed over to look like longish fringe and finally, a generous amout of John Freida Thickening Hairspray was applied all over. The look idea was to have a fresh, young and stylish look.
Nails: Leighton and his fabulous glam squad of girls layered Natural White varnish over Starker, a sheer white shade, for a natural, but tough look they like to call "White Russian."