Hair and Makeup from the 2010 Erdem Fashion Show
Backstage Pass To LFW Autumn 2010: Erdem
The vibe backstage at the 2010 Autumn Erdem Fashion Show was frenzied but fun. After giving famed hairdresser Charles Worthington a friendly kiss hello (more later on how I know him), I was able to snag a moment with his head stylist Marc Trinder to discuss the look du jour. He described the inspiration behind the hairstyle as "fierce bohemian. Hair was once perfect, but is now destroyed and desheveled." To complete the look, the models are wearing Alice bands made from Erdem fabrics.
Makeup, which was created by Andrew Gallimore for MAC, was designed as a "worn in look" had a well- blended smoky eye stain and black liner as an anchor at the lash. Cheeks were pale and lips were patted with concealer and powder for a colourless effect.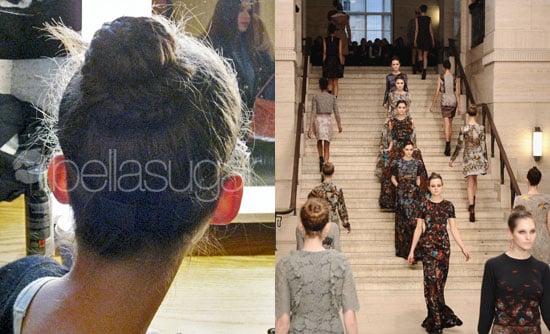 For more photos from the show and backstage, and to find out how you can create this intricate, yet messy fishtail bun at home, just read more.
STEP 1: Begin by prepping hair with Charles Worthington Front Row Stay Cool Heat Defence Spritz to protect from heat damage.
STEP 2: Then, backcomb hair just at the hairline. Next, gently smooth it over with a boar bristle brush and a light touch.
STEP 3: Sweep hair into a tight ponytail at the crown of the head and leave it tight. Then, apply Charles Worthington Front Row Rough and Tousled Salt Spray to the lengths for texture.
STEP 4: Work the lenghts of the ponytail into a tight fishtail plait and then twist it into a knot and secure with either a bobby pin, or tuck it into the hair band from the ponytail.
STEP 5: Lastly, pull out random pieces from the bun for a flyaway effect and pull the headband over the bun.