Hair Trends Autumn Winter 2008 Catwalk and Agyness Deyn. The Quiff - beauty glossary from BellaSugar Uk
Beauty Glossary: Quiff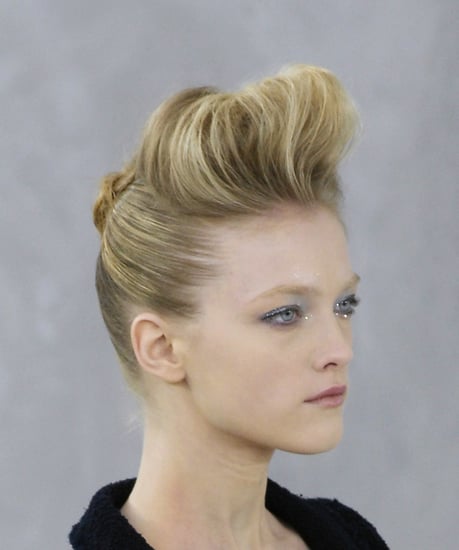 The quiff combines the 1950s pompadour hairstyle, the 50s flat-top, and sometimes a mohawk. The hairstyle was the main event for British Teddy Boys and there are fantastic example of Keniche and Danny maintaining their all-American quiffs with gel and a comb in the film Grease.
The quiff then became popular again in Europe in the early 1980s, with psychobilly acts, including The Meteors and Demented Are Go. For a while, DJ and TV presenter Mark Lamarr was a famous proponent of the quiff.
The hairstyle, although prominent in the 80s, faded into obscurity except among ardent 80s culture fans. The quiff saw a revival in the late 90s, mainly on girls with long straight, or slightly wavy hair, and a pinned up front quiff. A more sophisticated, less rock-influenced version of the quiff ensued.
Recently the quiff is having something of a revival. Models rocked the hairstyle on the Autumn Winter 2008 catwalks and there were cool, fluffed-up quiffs at the Spring/Summer 08 Chanel Haute Couture show. Style icon Agyness Deyn, and her flatmate and designer Henry Holland sometimes wear their hair with a modern undone quiff – with loose, spiky ends – for a rockabilly vibe.