Hair Trends from London Fashion Week
Backstage Beauty: Candy Floss Hair at Jasper Garvida
Having just gone behind the scenes at the 2011 Spring Erdem Show, I chuckled to myself when I heard almost verbatim that the inspiration behind up and coming designer Jasper Garvida's collection came from the Ballet Russo. However, once I saw the beauty look backstage, I realised how vastly different a theme idea can be interpreted. Hair at Jasper Garvida was definitely fairy tale-inspired, but with more of a fluffy, candy floss texture and wild, fantasy style than in a natural, earthy sort of way like we saw at Erdem. Tim Furssedonn, head stylist for Toni & Guy created a bowl-type bouffant bun in pink and white colours.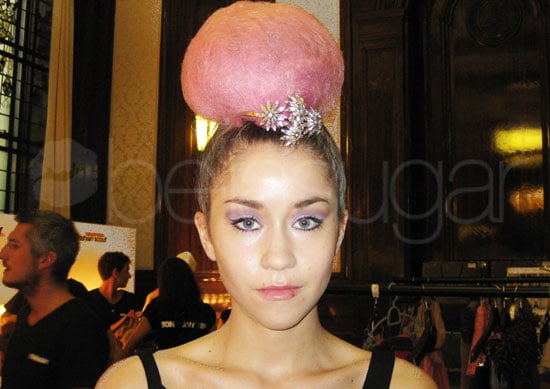 To find out how this hairstyle was created step by step, just read more
Step 1: Begin by back-combing your natural hair to create a kind of a web look. Then, pull it up into a ponytail on the top of your head and secure with an elastic.
Step 2: Next, weave false hair, (in any colour) into the top of the ponytail and pull it over your natural hair so that it's cascading over the hair in your ponytail.
Step 3: Style the ponytail into a round bun and fasten with bobby pins. For extra hold, wrap a sheer hair net around the bun and spray everywhere generously with hairspray.